Stories
Some call it stories. Others call it a blog. But here you will find nuggets of goodness to use and -- you guessed it -- SHARE!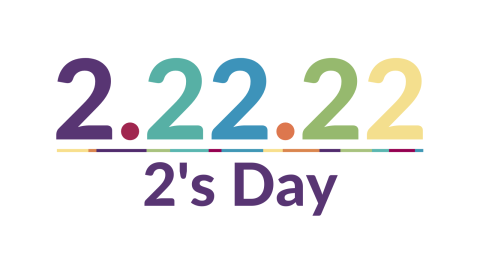 Whether you call it 2's Day or TWOSday - 2/22/22 - February 22, 2022, which also happens to be a Tuesday, is such an anomaly it has captured pop culture's imagination.
Urban Dictionary
predicts that the "world will annihilate itself with the antimatter version of the Earth and start the Universe again, restarting on 2's day again, and again, and again." Instead, we at SHARE Omaha propose that we honor this oddity of a palindrome date with a day of good. We celebrate Pi Day (March 14 or 3.14) with pie; why not celebrate 2's Day with a $22 gift?
With just a few clicks here at SHAREomaha.org, you can give $22 to the nonprofits that matter to you most. This is just a few of the things $22 can do to strengthen our Omaha/Council Bluffs metro:
American Cancer Society
: $22 helps one person receive free information about a cancer diagnosis, health insurance assistance, support, access to American Cancer Society resources, & referrals to other services in their local communities through caring staff via their 24/7 helpline 1-800-227-2345 or live chat at cancer.org.
Give $22.
Bags of Fun
: $22 can ease stress for a family with a child fighting a life threatening illness. It could help give children and families access to items they would not normally have access to due to social economic hardship. Bags of Fun are fulfilling the dream of 6-year old Gabby Krause who wanted to spread joy, laughter and relief to children who spent long hours in the hospital fighting illness as she had. $22 helps fill a Bag of Fun with one or many of the 17-18 items put into the bags. It could purchase an item that makes that child smile for the first time in weeks. $22 purchases an item of comfort to help that child feel some relief.
Give $22.
Children's Square U.S.A
: 
$22 helps purchase socks, underwear, slippers, women's personal care products, pillows and pillow cases, as well as diapers! $22 makes a youth feel that they have the stuff of champions!
Give $22
. 
The Collective for Hope
: $22 purchases pre-packaged snacks for their pantry. $22 helps hope soar by donating
kites from their wish list
for the Remembrance Walk & Kite Festival in May.
Give $22.
Conceive Nebraska
: $22 pays for two couples or individuals struggling with infertility to attend the monthly support group.
Give $22.
Cross Training Center
: $22 supports a week's worth of meals for students or a week's worth of proper transportation.
Give $22.
DIBS for Kids
: $22 provides four books for a classroom to be checked-out by students for nightly at-home reading. $22 provides an entire classroom with reusable folders to protect and transport their take-home book every school night. $22 powers cloud-based software for a week, which allows over 4,000 students daily to check-out books to at-home reading. $22 prints and distributes 500 parent letters at the start of the school year.
Give $22.
FAMILY, Inc
: $22 provides preventative oral health screening for a child to keep their smile bright. $22 covers hearing and vision screenings for one kiddo to ensure they are able to participate and learn at school. $22 expands the personal library of a child to explore new worlds and grow their literacy skills with once book per week for two months. $22 covers fuel costs between East and West Pottawattamie County offices to ensure all children are able to receive services no matter where they live. $22 offers supplies and snacks for 3 families to participate in a fun socialization held monthly for children aged 0-3. $22 gives Raising Readers cards for 2 children to build their literacy skills from their first month. $22 covers one month of Zoom membership so the FAMILY, Inc team is able to interact with each other and clients while keeping COVID safety at the forefront. $22 covers Kindergarten Readiness outreach materials to 1 preschool classroom to ensure children are ready to learn once they begin Kindergarten in the fall.
Friends of KIOS
: $22 pays for 30 minutes of programming including Morning Edition from NPR and Omaha's favorite, Wait Wait Don't Tell Me. $22 brings the metro 30 minutes of award-winning NPR News from around the world and around the corner. $22 brings programming to those who rely daily on Omaha Public Radio for free information and breaking news, continuing to keep our public radio station free of advertisers and profit margins.
Give $22.
The Good Life Bulldog Rescue
: $22 buys a container of CHG wipes for wrinkles and tail pockets + one dose of heartworm preventative. $22 provides one heartworm test. $22 provides one ear cytology for chronic ear infections.
Give $22.
Heartland Hope Mission
: $22 provides 66 meals to a neighbor in need locally.
Give $22.
Humanities Nebraska
: $22 provides books for a family participating in Prime Time Family Reading Preschool. $22 gives a journal to a veteran participating in the Nebraska Warrior Writers workshop. A monthly gift of $22 funds a humanities speaker in March during Women's History month.
Give $22.
The Life House
: $22 provides a month of diapers to two babies in our community.
Give $22.
Little Giants Foundation
: $22 purchases Emily's comfort pillow supplies to give to other children in our local hospitals that Emily's grandma makes. 
Give $22.
Made New Makerspace
: $22 refurbishes a laptop to give at no cost to low-income households. It covers the cost of cleaning the machine, replacing any cords or parts as needed, and even buying a bag to put the laptop and charger in.
Give $22.
New Visions Homeless Services
: $22 provides a set of towels for a person experiencing homelessness. $22 helps two people get a state ID so that they can rejoin the workforce. $22 buys enough food to support one of your neighbors for one week. $22 provides a blanket and pillow for a good night's rest for someone experiencing homelessness.
Give $22.
Omaha Home for Boys
: $22 purchases relevant, engaging books to update the library at the OHB School. They've recently had several students ask for specific books or series they do not have and want to update the library with current, interesting books for teens. 
Give $22.
Open Door Mission
: $22.00 shares 10 nutritious meals at Open Door Mission.
Give $22.
Rejuvenating Women
: $22 buys gas cards, groceries (specific bread, eggs, milk and butter), OTC medication and new undergarments and socks.
Give $22. 
ROC Youth Center
: $22 sponsors an underserved teen to a special event outside of the tiny community of Ashland. Some of those events have included a Virtual Reality day, a Day at the Lake, an overnight camping trip, a trip to a Husker game, or a trip to a state park.
Give $22.
Ronald McDonald House Charities in Omaha
: $22 covers a one-night stay for a family at RMHC in Omaha and two cups of coffee.
Give $22.
Tri-City Pantry
: $22 provides meat for a family of 3. $22 provides milk, eggs and cheese for 3 senior citizens. $22 provide laundry detergent for 7 families.
Give $22.
For 2's Day, load up your donation cart and check out all in one stop here at SHAREomaha.org. Then, treat yourself to a two-minute dance party; your act of good deserves a celebration!