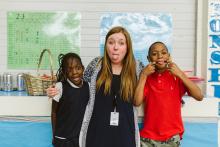 The Hope Center for Kids
founders Pastor Ty and Terri Schenzel saw the need for hope in the lives of children who could not see beyond their circumstances. Today, their vision is carried on by dedicated staff and volunteers who provide a safe after-school and summer program where youth can take part in faith-building, academic support, youth development, employment training and receive a hot meal.
Lou, a longtime volunteer, and her husband have supported the work of The Hope Center for 20 years.