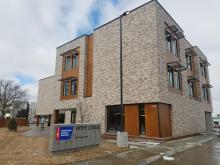 Since January 2018,
American Cancer Society
's Hope Lodge Nebraska has saved patients and caregivers over $1 million in lodging costs. The Hope Lodge is more than a roof and four walls; the heartbeat lives in the dedicated volunteers who turn the Lodge into a temporary home.
Geri, Phil and Kathy are a few of these volunteers. When you ask them about their work you'll hear them speak humbly about their contributions to Hope Lodge.
Geri updates brochures.