Stories
Some call it stories. Others call it a blog. But here you will find nuggets of goodness to use and -- you guessed it -- SHARE!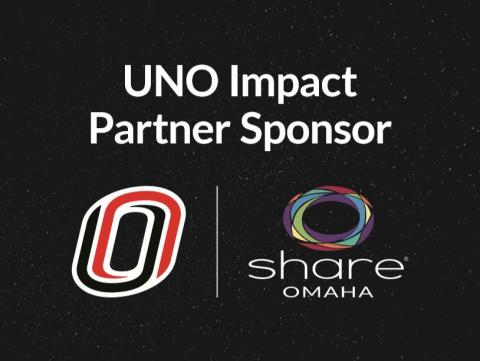 We are thrilled to announce SHARE Omaha is the UNO Athletics Impact Partner Sponsor for 2019-2020!
At every UNO Hockey game, fans will have the opportunity to engage with the featured nonprofit partner at the SHARE Omaha Impact Partner table. As SHARE Omaha amplifies the needs of local nonprofits, connecting givers to ways to volunteer and donate, SHARE Omaha is proud to offer this opportunity for nonprofits to reach new supporters, at no charge to the nonprofit. 
If your nonprofit organization is interested in a future table,
apply here
. 
This season, you'll see:
Friday, October 11th:
UNO Mavericks vs Alabama Huntsville
Whispering Roots
Saturday, October 12th:
UNO Mavericks vs Alabama Huntsville
A Time to Heal Cancer Foundation
Friday, November 8th:
UNO Mavericks vs Wisconsin
Heartland Hope Mission
Saturday, November 9th:
UNO Mavericks vs Wisconsin
Habitat for Humanity of Omaha
Friday, November 22nd:
UNO Mavericks vs Miami
Omaha Home for Boys
Saturday, November 23rd:
UNO Mavericks vs Miami
JDRF Nebraska - Southwest Iowa Chapter
Friday, December 6th:
UNO Mavericks vs Minnesota Duluth
RESPECT
Saturday, December 7th:
UNO Mavericks vs Minnesota Duluth
The Durham Museum
Saturday, December 21st:
​​​​​​UNO Mavericks vs Arizona State
Project Hope Inc
Sunday, December 22nd:
UNO Mavericks vs Arizona State
Catholic Charities Domestic Violence & Sexual Assault Program
Friday, January 17th:
​​​​​​​UNO Mavericks vs Denver
College Possible
Saturday, January 18th:
​​​​​​​UNO Mavericks vs Denver
The Hope Center for Kids
Saturday, January 25th:
UNO Men's Basketball vs. Purdue Fort Wayne
Radio Talking Book Service
Friday, January 31st:
​​​​​​​UNO Mavericks vs Western Michigan
Omaha Theater Company: The Rose Theater
Saturday, February 1st:
​​​​​​​UNO Mavericks vs Western Michigan
The Set Me Free Project
Sunday, February 16th:
UNO Men's Basketball vs. University of Denver
Great Plains Black History Museum
Friday, February 21st:
​​​​​​​UNO Mavericks vs Colorado College
American Foundation for Suicide Prevention Nebraska
Saturday, February 22nd:
​​​​​​​UNO Mavericks vs Colorado College 
Big Brothers Big Sisters of the Midlands
Friday, March 6th:
​​​​​​​UNO Mavericks vs North Dakota
Angels Among Us
Saturday, March 7th:
​​​​​​​UNO Mavericks vs North Dakota
Open Door Mission