Stories
Some call it stories. Others call it a blog. But here you will find nuggets of goodness to use and -- you guessed it -- SHARE!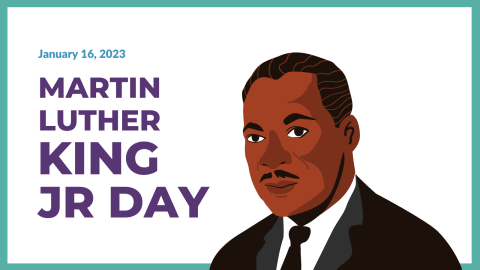 Martin Luther King, Jr. Day is Monday, January 16th in the Greater Omaha metro!
This is the time to celebrate, commemorate and honor the life, legacy and impact of Dr. Martin Luther King, Jr.
Whether you give your time on Monday, January 16th, give a financial gift, or celebrate in your own way at your own time, thank you for joining in this moment.
The King Center's theme for 2023 is 'Cultivating a Beloved Community Mindset to Transform Unjust Systems'. This theme defines Monday, January 16th and serves as a compass for 2023 and beyond. The King Center shares that the pioneering work of Dr. Martin Luther King, Jr. demonstrated a sustainable solution to injustice and violence in our world, ultimately leading to the creation of the Beloved Community, where injustice ceases and love prevails.
WAYS TO CELEBRATE MLK DAY IN THE GREATER OMAHA AREA:
Open Door Mission: Day of Service
This a day ON, not a day off! Open Door Mission is looking for volunteers to help with post-Christmas toy sorting and/or inventory on Monday, January 16th between 9:30am-5pm. Submit your interest.
Lolo's Angels: Snow Day Toy Drive
Lolo's Angels is collecting specific toys and games for their annual Snow Day Toy Drive to benefit Children's Hospital and Medical Center and Nebraska Medicine that runs annually from MLK Day to President's Day. Shop the Amazon wish list here or shop locally and drop off items at 681 Hackberry Road, Omaha. 
These toys will then be donated to both hospitals the week of February 20, 2023. The goal is to keep children and teens physically, mentally, and creatively engaged during their hospital stay!
The Durham Museum: Free Admission
The Durham Museum is proud to offer free admission to the community on Monday, January 16, 10AM-4PM, to celebrate the Martin Luther King Jr. Day. Join the museum as they highlight MLK's legacy and message of peace, tolerance, community service and an inclusive, hopeful future for all.
UNMC: The Power of Prevention
This year's Power of Prevention program will honor Dr. King's legacy and dream of equality and equity for all. The keynote speaker is Kenny McMorris, CEO of Charles Drew Health Center, Inc.
Register for this in-person or virtual event here. 
VIRTUAL OR AT-HOME OPPORTUNITIES:
The Great Plains Black History Museum: Black and White in Black and White
This virtual exhibition reveals the dignity and hope of African Americans in early 20th‑century America. In 1965, 16‑year‑old Doug Keister acquired 280 glass plate negatives, originally found at a local garage sale. He immediately made prints from some of the plates, revealing powerful, early 20th-century portraits of African Americans in Lincoln, Nebraska. These astonishing images are now on display in a virtual exhibition curated by Keister. Explore the virtual exhibit.
Project Harmony: Encouragement cards
Give your time and create encouragement cards for the children and families that Project Harmony serves. These cards will decorate their lobby area and inspire hope and encouragement for clients. Learn more.
Cake4Kids: Bake cakes/cookies for youth
Create custom cakes and other special treats for area youth that otherwise may not have something to celebrate their special day. Volunteer bakers sign up for a request, bake the cake at home, and deliver it to one of the partner agencies who support the youth. There is no minimum commitment — volunteers choose how often and which cakes they want to bake. Learn more.
The Wellbeing Partners: Champion mental health
Share a personal story (written or video) about either your mental health condition or supporting someone with a mental health condition. Learn more.
Letters of Hope Ministries: Letter writers
Write and send cards to women at Nebraska Correctional Center for Women. Volunteers apply first, then go through a 3-part training program before writing. Letters are written twice a month to 2 women. Learn more.
Rank the Vote Nebraska: Community outreach
Reach out to your community, friends and family to inform them about Rank the Vote and its benefits, and invite them to monthly meetings. Learn more.
Nora's Nation: Gift wrapping and delivery
Individuals and groups can help Nora's Nation deliver gifts to local childhood cancer warriors on their cancerversary. Learn more.
National Multiple Sclerosis Society: Virtual volunteer
Sign up to be a virtual volunteer with the National MS Society. Tasks include reaching out to local volunteers, donors through email or phone calls, writing and sending thank you notes or holiday cards, creating posters to cheer on participants at Walk MS Nebraska and more. Learn more. 
Want to continue volunteering after January 16th? There are so many ways to give your time in the Omaha/Council Bluffs metro. Explore opportunities to volunteer with your family and friends.