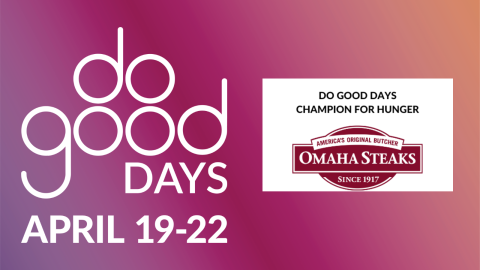 Omaha Steaks, the leading provider of premium beef and gourmet food products, has made it their mission to fight hunger and give back to the community. As SHARE Omaha's Do Good Days Champion for Hunger, Omaha Steaks is leading the way in fighting food insecurity here locally.
During the holidays, Omaha Steaks did a match with Film Streams, a nonprofit cinema organization in Omaha. Film Streams collected non-perishable food items, and Omaha Steaks matched the total donation in pounds. All items were then given to Together Omaha, resulting in around 400 pounds of product.
This partnership is just one example of how Omaha Steaks is dedicated to giving back to the community. They partner with organizations such as Food Bank for the Heartland, Feeding America, and Mercy Chefs consistently throughout each year, providing both monetary and product gifts. They also hold internal food drives to collect items for local food banks, providing their employees with the opportunity to give back and support the Omaha metro.
Local food banks are currently facing the most sustained hunger crisis of recent history with 1 in 10 Nebraskans struggling to afford their next meal. Omaha Steaks and United Rentals partnered for the second year to do something about the need.
On March 6, Omaha Steaks delivered a truckload of more than 5,000 servings of protein, including steaks, chicken, pork, all-beef franks, seafood, sides and desserts to Food Bank for the Heartland.
"Omaha Steaks is committed to providing high-quality protein to families in need," said Todd Simon, fifth-generation family owner of Omaha Steaks.
Omaha Steaks' commitment to fighting food insecurity is an ongoing effort. They are leading the way in giving back to the community and making a significant contribution to fighting hunger. Their dedication to working with other organizations and participating in food drives year-round serves as an inspiration for each of us to fight hunger as well. You can join in by:
Thank you, Omaha Steaks, for being the Do Good Days Champion for Hunger!