Stories
Some call it stories. Others call it a blog. But here you will find nuggets of goodness to use and -- you guessed it -- SHARE!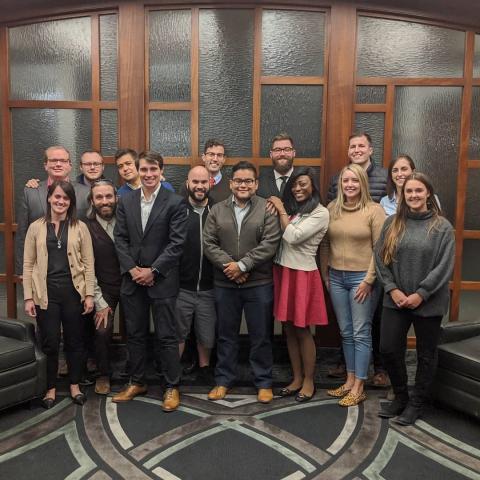 This blog is guest written by Mickey Manley of 500 Millenials of Omaha.
500 Millennials of Omaha (500M)
is a brave community where members can speak candidly for the sake of enlightenment. We hope the constructive conversations in our social media group inspire energized adults to exchange ideas and develop connections that will facilitate offline progress in the area. The primary purpose of the group is to create meaningful connections through discussion about Omaha and issues millennials face to, ultimately, work together to better Omaha and the surrounding area. A secondary goal is for Omaha to become the most educated and activated community in the country.   
When I attended an Open Coffee event in 2018 to learn about philanthropy here in Omaha where I learned about giving circles, and my wheels started to click but there was no forum in place yet to take action. After 500M launched, an early member and representative of the
Omaha Community Foundation (OCF)
, Steve Jerina, made a post which not only reminded me of the opportunity, but also inspired me to use our facebook group to inspire change. We got together to iron out logistics, but the most important part was gauging interest from group members -- could our facebook page be more than a space for conversations? Could our members come together offline to better our community?   
So doing what we do best, a facebook post was made. We made a post to the 500M membership asking about philanthropic interests in Omaha and how a giving circle might make your donation and time more impactful. Many raised their hand to learn more and eventually commit to being part of the
Pay It Forward giving circle
its first year.   
In May of 2019, we hosted our first meeting where we discussed the purpose behind the giving circle, what we hoped it would do, and answered questions people might have. Because a giving circle is participatory philanthropy where groups of individuals donate their own money to create a pool of funds and then decide together what to support, it was clear we would need more participation. It was no surprise our first agreed-upon initiative was to recruit so we could increase the reach of our impact.   
Nineteen individuals ended up participating that first year of 2019. We celebrated our first give-away event at Osterio Segreto below Blackstone social where we were able to provide $3800 to
PACE Athletics
.The PACE program was started in 2005 by the Omaha Latino Peace Officers Association in conjunction with the Police Athletic League and area volunteers to build positive Police/Community relationships between police officers, first responders, youth participants and our community through athletics and educational programming.  Not only did we get to network and learn more about PACE, but our contribution funded jerseys for the organization.    
OCF continues to manage the Pay it Forward Fund.
Each year we have been able to support deserving organizations with amazing missions. In 2020, 15 individuals came together to give $1,500 to Wonderfully Made USA and $1,500 to
Intercultural Senior Center
. The following year, 13 individuals came together to give $1,300 to
City Sprouts
and $1,300 to
The Life House
. We learned it can be amazing to see the impact we can have when we come together; yes, social media is a platform for connecting, but the real change has to be offline in real life.
We are grateful to OCF for facilitating the opportunity. If you are interested in participating in the
Pay It Forward Fund
and would like more information about how the giving circle works please reach out to
info@omahafoundation.org
.