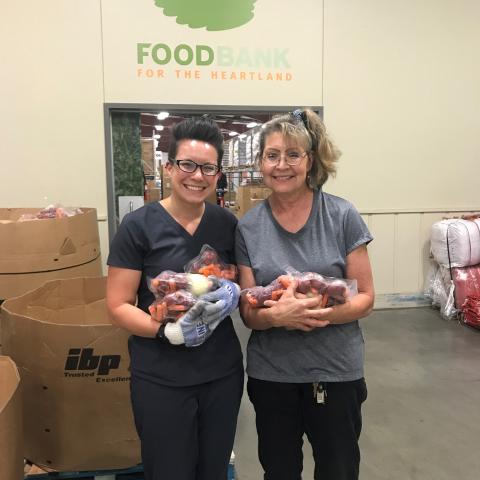 It's all about perspective. If you see a carrot with three or four legs at the supermarket, you might "turnip" your nose at it. At a farmer's market? That organic carrot has personality and it's worth at least double!
On a Tuesday evening at the
Food Bank for the Heartland
, volunteers inspected and sorted pot roast veggies, including carrots with a few extra legs, for distribution to the 93 counties and over 500 agencies the Food Bank serves in Nebraska and Western Iowa.
In just two hours, volunteers cleared 1725 pounds of Pot Roast Veggies to feed our hungry neighbors.
"This is my fourth time and I want to keep coming," said volunteer Jenny. "It's fun, you meet new people, it's easy work and I feel good knowing my work is providing food for people in need."
Jenny finds her time at the Food Bank for the Heartland so fulfilling, she invited her mother to join her. Next time, her husband will volunteer as well.
"She works too much," said Jenny's mom, Kim. "This way I spend a little time with her and get to volunteer. I love to volunteer; it gives you a good feeling at the end of the day."
There were many families serving together on that Tuesday night: Mary and her high school son completing hours for National Honor Society and David, a member of ASHRAE, and his daughter Violet.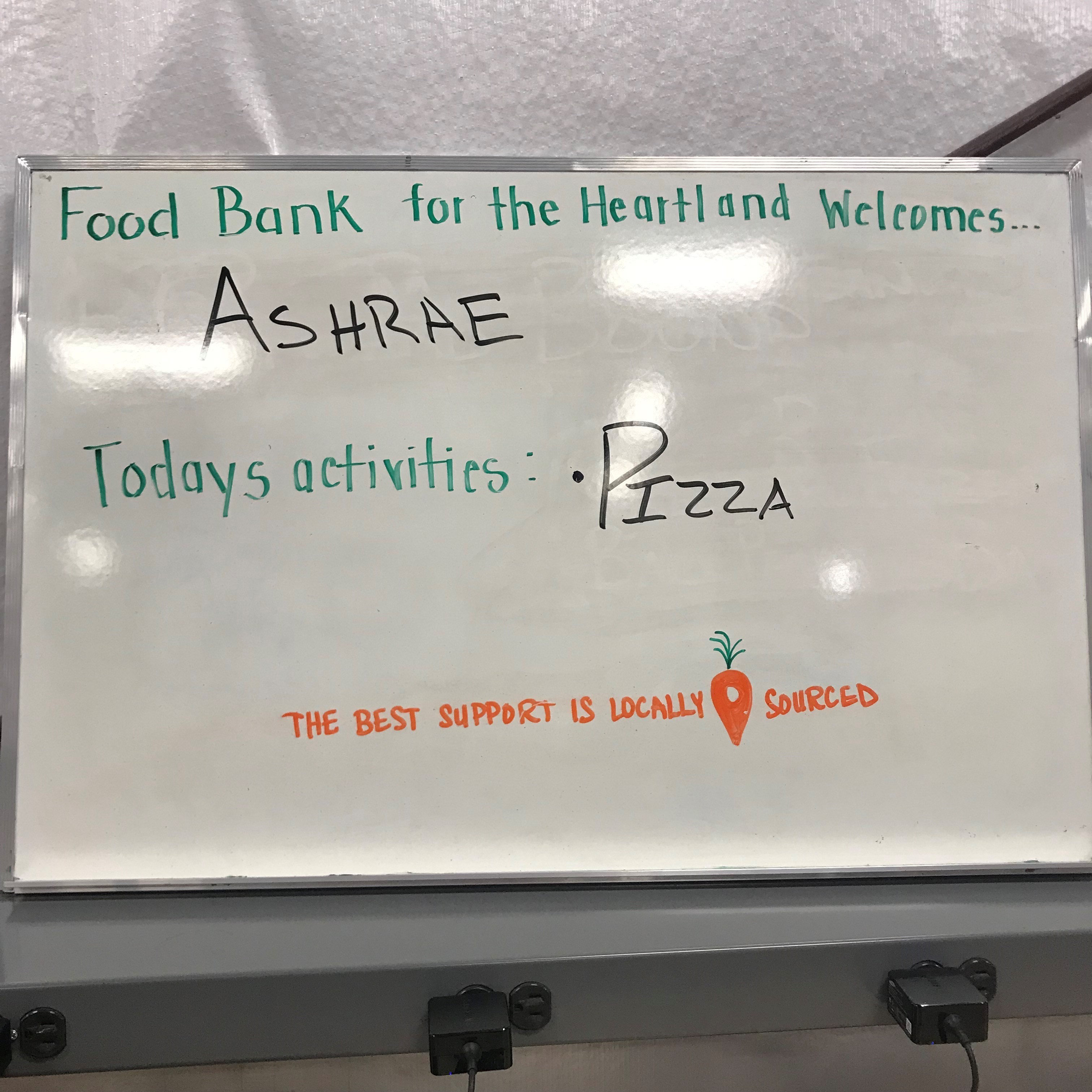 A group of professionals from
ASHRAE
, The American Society of Heating, Refrigerating and Air-Conditioning Engineers, planned a social outing to the Food Bank for the Heartland and spent the evening labeling frozen pizzas.
"I'm not traveling as much and want to get more involved in community service," said Ryan of ASHRAE. "I have a soft spot in my heart for helping people."
And ASHRAE did help. They prepared over 1300 pizzas, a hot commodity, for immediate distribution.
About 50% of food items at the Food Bank for the Heartland are donated. The other 50% is purchased affordably at scale by the Food Bank for the Heartland, with each dollar providing up to three meals.
Volunteers are always needed to
pack, sort and stock food at the Food Bank for the Heartland
. This year, over 43,000 volunteer hours are needed to provide 25.5 million meals to Nebraskans and Iowans.
Spencer Cohorst, volunteer coordinator at Food Bank for the Heartland, credits volunteers as being vital to rescuing produce, as well as fighting hunger. The four-legged carrot will now be a part of a delicious pot roast and any bakery, produce and meat waste goes to the "goat guy", reducing landfill. The Food Bank for the Heartland has a great partnership with a local farmer with a goat herd who helps with sustainability opportunities.
Whether you
donate a $1 to help provide up to three meals
, or want to
volunteer with the Food Bank for the Heartland
, your support will allow the Food Bank of the Heartland to continue to provide food to the local pantries, shelters, schools, soup kitchens and child nutrition programs who need it the most.