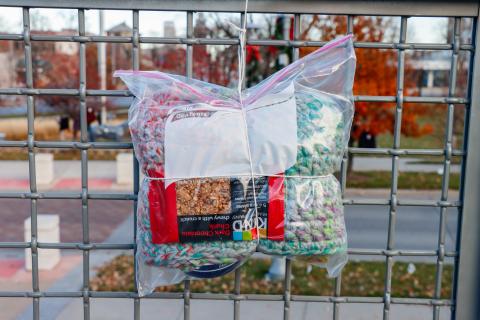 Giving Tuesday, our region's largest annual giving celebration, is Nov. 29, 2022. To boost its impact, we are encourage you take your philanthropy from this screen to the streets!
Giving Tuesday is about more than just dollars, but about the combined impact our region can have when we all activate our generosity.
Here at SHAREomaha.org, explore thousands of ways to engage this Giving Tuesday including:
Join the Secret Kindness Agents at Midtown Crossing at Turner Park on Giving Tuesday to hang scarves and things from trees for anyone to take.

ThriVing Pets

- This year ThriVinci is collaborating with Pet Nation Omaha in hosting a donation drive to benefit Midwest Dog Rescue Network & Felius Cat Cafe. Common items accepted include toys, treats, kitten formula, bedding/beds, carriers/kennels/crates, dry/wet Food, litter/litter trays, leash/collar/harness or calming aids. Donations can be dropped off at American Animal Hospital prior to November 29th or schedule a pickup by contacting Roxanne at

info@thrivinci.org

Preserve Council Bluffs

is raising money to paint Bregant house, the historic home of Jean & Inez Bregant, its original 1912 color.

100 Women Who Care Omaha

is hosting a holiday toy drive for the Open Door Mission. If you'd like to contribute, email

omaha100@yahoo.com

The Big Garden

hopes to raise $10,000 and host 20 volunteers for campus winterization. You can give or volunteer.

All Care Health Center

is asking for items from its wish list to add items to their Kids' Closet, a community resource stocked with items such as diapers and wipes.

Heartland Workforce Solutions

is hosting a Share the Warmth coat drive. They will be accepting coats of all sizes, colors, and styles, in good condition. Coats can be dropped off until Wednesday, November 30th at 5752 Ames Avenue, Omaha, NE 68104

Omaha Home for Boys

hopes to collect one essential item and one gift for every youth, young adult and family in their programs for the holidays. They currently serve 160 youth, young adults and families and for many, it will be their only holiday celebration. There are four ways to get involved with Project Christmas Joy:

Purchase essentials or gifts from their

Give Shop Wish List

and ship them directly to Omaha Home for Boys

Purchase needed

essentials and gifts

at your favorite retailer and deliver them to their campus

Give a monetary donation online to purchase presents and needs

Host a drive at your work, church or other organization to collect needed items and gifts from friends, coworkers, customers, members, etc. and deliver the items to their campus.

The Omaha Home for Boys campus is located at 4343 N 52nd Street, Omaha, NE 68104

Five Iowa businesses

are joining TS Bank to collect items: Nesting Grounds in Underwood (kids hats and gloves), Destinations Coffee in Oakland (kids hats, gloves and diapers), Heartland Properties (kids hats, gloves and diapers), Castle and Associates (diapers) and Caddies Kitchen & Cocktails (kids hats and gloves). Hats and gloves will go to local elementary schools and diapers to FAMILY, Inc.
How are you spreading generosity for #GivingTuesday402?