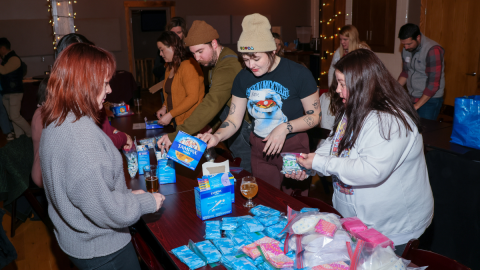 We all know this is a hectic time of year!
Despite the busy-ness, it's the perfect time for you to get involved with Giving Tuesday (this year on November 28, 2023), the year's biggest day of philanthropy here locally in the Greater Omaha/Council Bluffs metro and across the globe.
Choose your Giving Tuesday
Take time away from the chaos and make a plan for giving back with your family and friends. SHARE Omaha makes it easy for you here at SHAREomaha.org. For volunteering, you can sort and filter more than 400 volunteer opportunities in the metro area. You can easily refine your search by opportunity type, group size, volunteer setting and more. Or, for giving dollars, you and sort and filter by nonprofit cause area. You can even shop nonprofit wish lists and send items nonprofits need directly to their doorsteps. 
Opportunities for Giving Tuesday include:
Share what matters to you
Inspire others to get involved by sharing your Giving Tuesday plans on social media and via text messages to friends. When posting on social media, be sure to use the hashtag #GivingTuesday402 and direct friends to SHAREomaha.org for easy giving. (Did you know SHARE Omaha is a free service for donors and nonprofits? Our credit card processor charges a low, standard fee, but consider covering the credit card processor fee so your favorite nonprofits can receive 100% of your gift!)
Let's get enthused
While giving back and investing in our community is vital to our region's forward momentum, it's also a lot of fun! Volunteering with family and coworkers can be the best bonding experience. 
It's officially the giving season, and while donating and volunteering should be a yearlong, consistent practice for all of us, ramping up our efforts can also boost our energy and joy during this busy time. Our area nonprofits and neighbors in need are counting on us. How will you give?
Use donation code GIVINGTUESDAY to be counted among those who are giving back for Giving Tuesday!