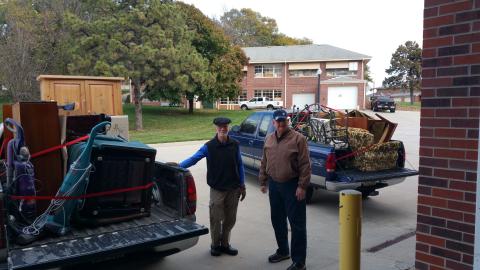 Partnership 4 Hope's Youth Mart, a donation center for former foster youth, needs new Truck Brigade volunteers!
Sign up to join the Truck Brigade here
.
Overheard during a ride-along with the Truck Brigade, as a team of volunteers delivered a couch, bed frame and mattress to a recipient of donation items:
"You got enough truck straps for that couch?"
"The apartment's up there? It's has to be. Our deliveries are never on the first floor."
"There's another door, right? I don't think it's coming in this way..."
"
Vvvv-room
," said a little boy in Spiderman pajamas as he drove his toy car under the couch being carried back out door number one.
"Look out, the kitty is trying to escape!"
(Trying to haul the couch up the front stairwell and through door number two)
"We are so close, we just need a smidge more room..."
(Many grunts and finally a pause in effort)
"…What do you think, Tim?"
At this point during my Truck Brigade ride-along, I was sure the couch would never make it to its new living room home.
The Truck Brigade started when Youth Mart volunteers saw a need. Youth Mart is a donation center that collects household essentials and allows young adults to shop free-of-charge for items needed to establish their first apartments.
A few years ago, Adam was volunteering at Youth Mart and noticed that many large items were claimed but hadn't been picked up for six months or more. The staff explained that often the youth are unable to find friends with working trucks or to come up with the gas money needed to borrow one.
Adam felt compelled to make sure these large furniture pieces made their way to young people who are establishing their first homes. He recruited friends, borrowed a truck and trailer and made deliveries once a month. Then, twice a month. Now, for the last year and a half the Truck Brigade has delivered home goods every Friday, rain, shine or snow.
It's a motley crew of men and trucks. Sometimes they put a couch on top of a car. Sometimes furniture gets stuck in a stairwell, but they saw a need and they're making things happen. For these young adults starting out on their own, the Truck Brigade volunteers are the reliable "friends with a trucks" that we all need.
Keenan, independent living employment manager for Omaha Home for Boys, stresses that the Truck Brigade isn't just schlepping couches. By furnishing apartments with coffee tables and wall décor, an apartment becomes a home, a source of pride and a motivation for getting the next promotion at work.
Keenan shared a memory of a young man who'd had his first apartment for a week.
"When we arrived, his friends came running out, grabbing couches and going upstairs. The Truck Brigade just sat back. Seeing them supporting their friend was great," said Keenan.
"When we went inside, we saw the couch was the first thing he had in his apartment. His friends put the couch where he wanted it and they sat down with the biggest smiles. I could see him thinking, 'Wow. So, this is how this feels. I'm an adult,'" said Keenan.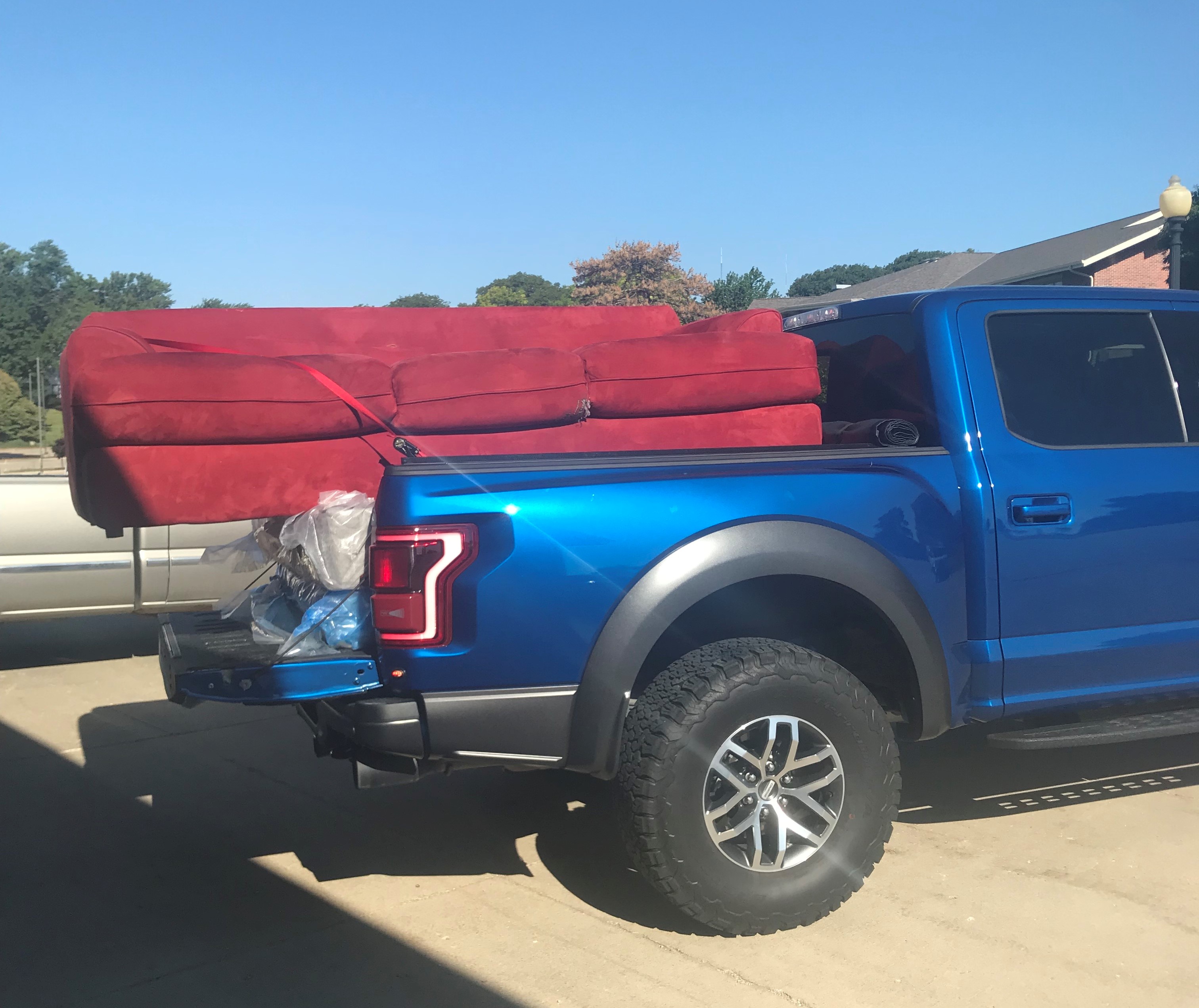 I learned you shouldn't bet against the Truck Brigade. The Brigadiers never give up. Finally, I heard, "SUCCESS!", and the red couch made its way into its new living room.
All it took was Adam hanging from the ceiling and pushing with his feet.
I want you to know that the Truck Brigadiers are an infectiously positive crew of men who achieve the impossible; ask them about the hide-a-bed that went up three flights of fire escapes.
The Truck Brigadiers want you to know that they need new blood; they're aging like fine wine.
If you have a can do, never quit attitude, please
sign up to serve with the Truck Brigade
on an upcoming Friday. New brigadiers are always welcome and needed.
I asked Tim, an original Truck Brigadier, why he keeps coming back to help.
"It feels good to help someone else out," said Tim, "I once delivered to a young man who only had lawn chairs and a mattress. I talked with him and learned about the job he was committed to. He said, 'I'm going to make a success of this,' and I truly believe he will."