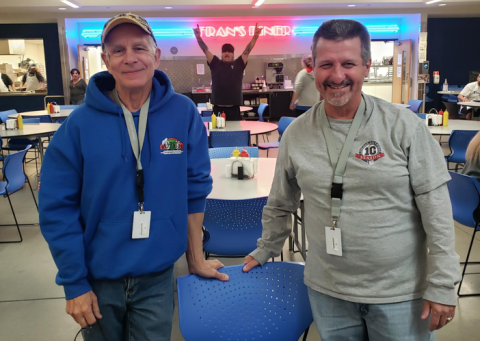 Do Good Days is coming quickly: April 19-22, 2023!  The need is great for volunteers and this year SHARE Omaha is encouraging the community to step in and fill the hundreds of volunteer positions where volunteers did not return after COVID. 
Dave, a long-time volunteer at the Stephen Center also is a recruiter for volunteers. One recruit, Charlie came with Dave and has been returning consistently ever since. 
We love to hear stories like this; volunteerism is contagious! 
Almost a thousand volunteers have signed up for projects during Do Good Days which coincides with National Volunteer Week.  Individuals, businesses, neighbors and friends can sign up to help out: Volunteer for Do Good Days.
WHEN: April 19-22, 2023 is Do Good Days powered by SHARE Omaha and SHARE Iowa but volunteering isn't seasonal and nonprofits need help every day.
WHY:  Many volunteers who helped organizations in person were disrupted by the COVID pandemic and never returned as it subsided. Now, organizations are having to fill those volunteer needs with paid help which is taxing budgets. The national value of a volunteer hour is $29.95 so volunteers provide a very valuable service, enhance a nonprofits bottom line and allows them to focus on their mission. Volunteering IS Philanthropy. 
###
About SHARE Omaha: SHARE Omaha was created by local philanthropists to help area nonprofits primarily in Dodge, Douglas, Sarpy, Saunders or Washington counties fulfill their missions by recruiting donors to share money, material goods and time. Over 700 metro nonprofits are registered on the SHARE Omaha platform. A one-stop donation platform, SHARE Omaha does not charge any fees to nonprofits and does not keep any portion of what is donated. The SHARE Omaha platform is available 365 days a year so everyone can do good every day at SHAREomaha.org.