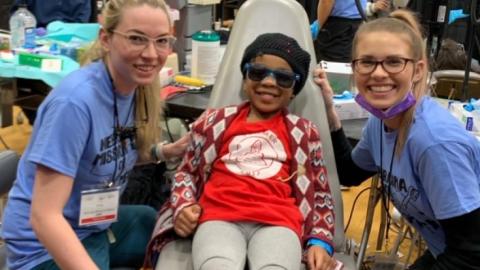 Let's take a minute to brush the surface and learn more about the work of Nebraska Mission of Mercy.
Simply stated, the Nebraska Mission of Mercy program provides free dental care to the uninsured, the under-insured population. 
"Oral health is such a critical piece for people's lives. A lot of disease starts in the mouth. When we can promote oral health and education, it can be a life changing experience," says Pat Mueller, Nebraska Mission of Mercy executive director.
Generally, the mission does one clinic a year around the state of Nebraska. Anyone with a smile is eligible, no paperwork is needed. In July 2022 at the Creighton Prep gymnasium over 800 patients were seen, offering $800,000 in free dental care. Patients included three busloads of youth who journeyed from Columbus, Nebraska.
During clinics, around 150 dentists donate their time, talent, energy and love for the project. Chemists even come from far as Virginia to help with dentures. Though the professionals volunteer their time, donations are needed to cover expenses such as healthcare equipment rentals.
The mission always needs volunteers in addition to the professionals. Regular volunteers help throughout the day guiding patients and answering questions.
If this project inspires you, your donations are welcome as is your time. Keep an eye open for the date announcement of the next two-day clinic this fall and help spread some smiles.