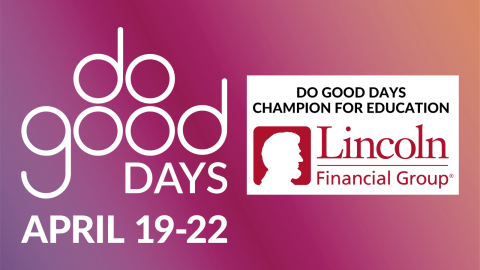 SHARE Omaha and SHARE Iowa's 2023 Do Good Days campaign is focusing on rebuilding the volunteer base urgently needed by nonprofits across the midlands, with the goal of 500 volunteer sign-ups during the four days to jumpstart a new wave of volunteerism during National Volunteer Week.
Omaha metro and Southwest Iowa nonprofits need hundreds of volunteers across the over 700 organizations and companies like Lincoln Financial Group are stepping up to help.
Lincoln Financial Group is elevating their commitment to education needs in our community as the Do Good Days Champion for Education. They work with nonprofit partners who prepare students for future success by focusing on critical milestones. Lincoln Financial Group is ready to champion education during Do Good Days and beyond through volunteerism.
"As a vital part of our commitment to corporate social responsibility, the Lincoln Financial Foundation supports the communities where our employees live and work. Since, 1962 the Lincoln Financial Foundation has worked with non-profit partners to help them meet today's needs and prepare for tomorrow. We do this through program funding, strategic guidance and the use of data to measure outcomes and improve program effectiveness," says National Director for Education at Lincoln Financial Foundation, Jana Barrett.
Lincoln Financial Group focuses on three key areas:
Advancing ability and opportunity to achieve financial wellness

Building strong educational foundations for children and youth

Supporting critical human service programs
The Foundation supports programs impacting every stage of a student's educational development, from preparing children to enter kindergarten to positioning young adults for post-secondary success.  The nonprofits Lincoln Financial Group supports provide resources for every child to reach their full potential and creates opportunities to pursue their dreams. 
You can step up with Lincoln Financial Group to support education needs in our community. This is just a handful of ways that you can do good: