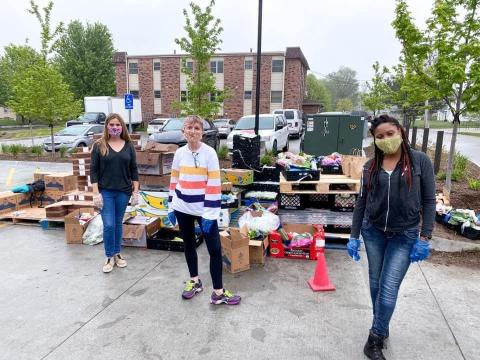 Written by Leo Adam Biga
Higher ed administration veteran Stephanie Kidd has found herself unemployed during the pandemic. Through this struggle, the Junior League of Omaha member has discovered meaning as a volunteer for the Heart Ministry Center pantry. She leads JLO volunteers working the 24th and Binney drive-thru on Friday mornings.  
Kidd shared what the experience means to her in a Facebook post:
"Volunteering at Heart Ministry Center has been a true highlight of my spring. It feels really good to be able to provide love and support to folks who need it. I'm proud of the work we've done and the partnership we're building."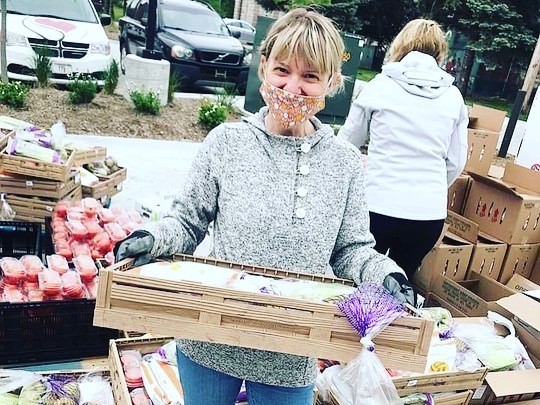 Already among the busiest pantries in town pre-COVID19, the number of clients served and the amount of items dispersed has risen dramatically since March. That means a greater need for volunteers. Enter JLO. It chose hunger and access to healthy foods as a focus area just before the pandemic hit.  
"Our members believe in Heart Ministry Center," says JLO Food Access chair Shannon Lang. "We opened volunteer shifts up to four members a week, and these shifts have been immensely popular – almost all filling with a waitlist."  
"I look forward to those volunteer shifts," Kidd says. "Yes, it's hard work, but it is so rewarding to work in my community and meet folks who live in my neighborhood."  
JLO is also partnering with No More Empty Pots and Together Garden as part of its "women building better communities" work.  
Count Heart Ministry Center's director of strategic partnerships, Damany Rahn, a fan of what he calls "The League of Extraordinary Sheroes."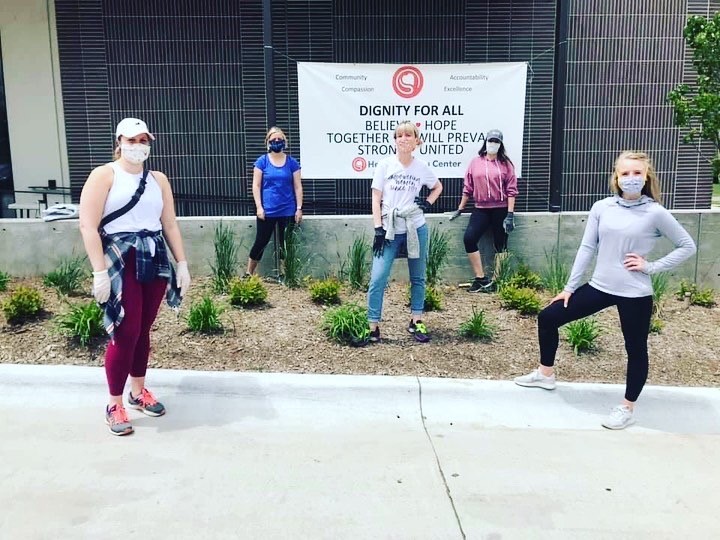 "They are professionals, wives and mothers," he says, "yet they find the time to give more of themselves to great causes."  
Rahn has noticed Kidd. "She has been here every week, knee-deep in boxes of fruit, crackers and pastries. She's worked extremely hard in the sun, heat and rain to serve others, putting their need to be fed in front of her own need to be comfortable." He could use more like her. "We distributed more than 900,000 pounds of food in April and May – our two busiest months ever," he says, "and we are on track to distribute 3.5 million pounds this year. Without the help of volunteers like Stephanie, this distribution would not be possible."  
"Stephanie embodies everything Junior League stands for," Lang says. "She is passionate about improving not only the community but also improving our League."  
"Junior League of Omaha has been near and dear to me since I joined seven years ago," notes Kidd. She describes as "powerful" her previous JLO volunteering at Project Harmony and Lydia House. Where those were done-in-a-day projects, repeated volunteer shifts at Heart Ministry Center familiarize her with the agency and staff. She's been there weekly since mid-May as JLO's designated team leader. "I tell members to expect to be super busy the full four hours. Between prepping and loading, everything moves really fast. On a slow day, we might serve 80 families and on a busy day up to 200."  
A DJ is often on-site, playing music during the pantry. "The music is amazing. It keeps us going," she says. "Heart Ministry Center staff comment they love the Junior League girls because we sing and dance along. It's part of our special attitude."  
The esprit de corps attracts new members. "Two women we met there asked if we always have this much fun volunteering. We said, 'yes,' and they're both now in the new member class of Junior League because of the connection we made."  
There's also the sober reality of being intimately present for so much need. Vehicles line up an hour before the pantry even opens.  
"After my very first shift was over, I got in my car and burst into tears," Kidd recalls. "I had to process emotionally what happened because it's a lot. I tell members however you feel or react is valid and to take a break if you need to."  
She values how immersive the experience is.  
"We don't just go there, do the job, and leave. We do direct service to community residents. I feel closely connected to the folks driving through. It's very meaningful to support my neighbors right now. As I load things in cars, I greet people with a smile behind my mask. I ask how they're doing. I remember families from week to week."  
Being there has extra meaning for Kidd. "COVID has hit me pretty hard," she says, "but I'm lucky I have family members who have been able to help get me through this. Plus, I'm getting unemployment and CARES Act relief. Otherwise, I very likely would be driving through that pantry to collect support myself. As I live alone and don't leave my house much, seeing folks at Heart Ministry Center is the social interaction I get in-person. It feeds my heart and soul and gives me something to look forward to each week."  
She appreciates that participants in Heart Ministry Center's Fresh Start program work alongside JLO members. "That makes it feel more community-based," says Kidd, who makes time to "build up" Fresh Starters working to transform their lives.  
Kidd chairs the Junior League of Omaha's diversity and inclusion committee, and she says just as Heart Ministry Center's mission aligns with the unfolding social justice movement, so does JLO's: "We have an absolute focus on underserved populations. We are taking active steps to make sure we are a safe space and an inclusive organization for all women and non-binary folks."  
For Heart Ministry Center volunteer opportunities or to donate:
Visit their SHARE Omaha profile here.
For information about the Junior League of Omaha:
Visit their website
.