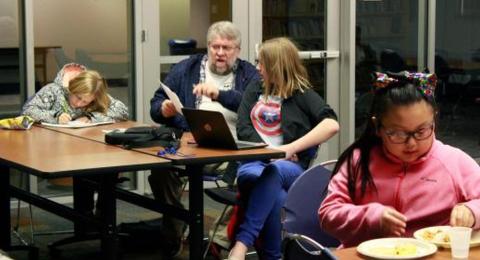 This guest blog is written by Fred Robertson, Guided by Kids founder and president
We (
Guided by Kids
) are launching something new this summer! Starting July 25
th
, we are hosting a mini-camp at Omaha Marian High School to teach 5th-8th graders Congressional Debate, a competitive event in debate done at the middle school and high school level. From July 25-29, students will learn to write, research, and debate, utilizing proper parliamentary procedure, bills and resolutions. Payton Shudak, a former Nebraska State Champion Lincoln-Douglas debater, and I will lead instruction, and be supported by Marian debate team members with experience in Congressional Debate: two time NSDA Nationals qualifier Colette Lawler, NSDA Nationals qualifier Eliza Turco, and returning Congressional debaters Lucy Kalkowski and Harshi Vallabhaneni.
In addition, a panel of local public servants will give the students a brief presentation about how they decided to get involved in politics and what their work entails. Panel members are State Board of Education Representative Deborah ODonnell Neary, State Senator Megan Hunt, and State Senator John McCollister.
This camp, like all Guided by Kids classes, is provided free of cost to students who apply at
guidedbykids.org
. Registration will remain open for the Congressional Debate camp until Monday, July 18, 2022. Once students apply for this mini-camp, they are also signed up for regular Guided by Kids classes, beginning in December 2022, held at Omaha Marian. Those classes are also free of charge. If students enter middle school speech and debate competitions during the school year as part of our Guided by Kids team, Guided by Kids pays all entry fees and will provide transportation to and from tournaments, if needed. In addition, if a student joins Guided by Kids and does all work and assignments to the best of their ability, but that student does not have access to a tablet or laptop computer at home, GBK will purchase a Chromebook for that student.
We at Guided by Kids are a 501c3 nonprofit dedicated to teaching creative and critical thinking skills to metro area students. These students are willing to have fun while working to become better community citizens and leaders. We are excited to be hosting our Congressional Debate mini-camp this summer at Omaha Marian High School July 25-29!
Join Guided by Kids as a volunteer Civic or Community Leader Speaker and learn more about Guided by Kids.