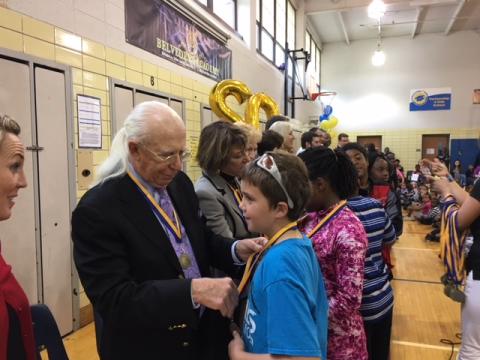 January is National Mentoring Month. Find your fit and become a mentor now.
Mentors connect, befriend and guide. The impact of mentors is tangible.
Mentoring is linked to improved academic, social and economic prospects
for Omaha/Council Bluffs metro young people who become the future leaders of our community.
It can feel daunting to be a part of helping youth make responsible choices, but for many it's natural! The first step is to show up.
Shelley, a
GOAL buddy for Partnership 4 Kids
, views her time with Gifford Park Elementary students as a break in the day.
"With the daily grind, it's refreshing to come over here," said Shelley as a student walked by and thanked her for coming. "When I grew up, I never doubted that I would go to college and have a career. Not all kids have that."
The day's topic for 4
th
-6
th
grade students was careers. One young woman talked about her desire to be a doctor and her classmate a YouTuber as Shelley guided a conversation about how both doctors and social media influencers need to use problem solving skills.
Terenza Perkins,
Partnership 4 Kids
elementary program coordinator says if you are passionate about connecting kids with another positive voice, positive presence, mentoring is for you. A one-hour commitment, twice a month, is all that is needed for the GOAL buddy program.
Looking around a room of Partnership 4 Kids volunteers, you see individuals and couples who have found their mentoring fit. Wayne, Cindy and Alberta have been connecting with kids for 6 and 7 years, and Johnny a full decade. They keep showing up.
Which opportunity is your mentoring fit?
Big Brothers Big Sisters of the Midlands:
Become a Big Brother, Big Sister or Big Couple!
TeamMates:
Play games and talk with a student for about an hour a week
Bennington Public Schools:
TeamMates mentoring
for an hour a week
Release:
Help youth in the justice system
lay a spiritual foundation for success
Smart Gen Society:
Educate teens on safe, authentic and kind social media use
Catholic Charities Omaha:
Empower and educate moms through friendship
Do Space:
Use your specialized tech skills
to mentor others
See all mentoring opportunities
and find your fit now!

Photo credit: Partnership 4 Kids