Stories
Some call it stories. Others call it a blog. But here you will find nuggets of goodness to use and -- you guessed it -- SHARE!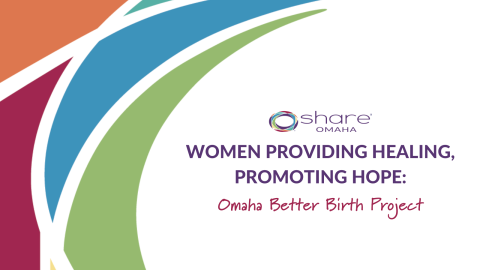 For March's Women's History Month, we look to the 2022 theme designated by National Women's History Alliance. This year's theme is "Women Providing Healing, Promoting Hope." Omaha Better Birth Project does just that.

Omaha Better Birth Project (OBBP) works to decrease inequities in childbirth by providing access to doula services, childbirth education, and prenatal & postpartum support for low-income and teen families in the Omaha area. OBBP shares that providing mothers with doulas and childbirth education classes are evidence-based practices that reduce the risk of a traumatic birth or birth complication and lead to better outcomes. However, the cost associated with childbirth education and doula services is often a significant barrier to low-income and teen families.
Spring Into Action - Stuff the Diaper Bags!
Donations Accepted Through March 31, 2022  
Omaha Better Birth Project needs your help to stuff 50 diaper bags with new baby essentials!    
OBBP is gearing up for their First Annual Community Baby Shower. This event is an opportunity to share some love and pamper several new and expectant Omaha moms and their little ones. You can help by picking up an item or two from their Amazon Wishlist to be shipped right to them or drop off items at one of the designated locations. From bottles to blankets and teethers to toys, there's something for every budget.  Let's join together and set these families up for a great start!   
Shop here:  
https://amzn.to/3HzhdsW
You can also drop off donations at one of their partner locations:
Popple Family Chiropractic
11910 Standing Stone Dr #102
Gretna, NE 68028
Resilient Health and Wellness
6723 S 180th St
Omaha, NE 68135
Essentials Natural Family Health
2723 S 87th St 
Omaha, NE 68124   
1237 Golden Gate Drive
Papillion, NE 68046