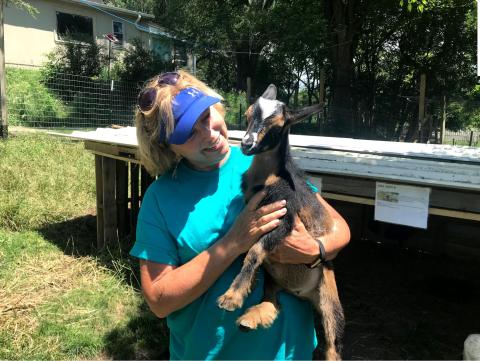 Peace, healing, joy. Each guest comes to
Scatter Joy Acres
looking for something different. When they find it, they're hooked.
"You come one time and that's all it takes. You'll be back," says Kim, a regular Scatter Joy Acres volunteer.
Scatter Joy Acres is a 26-acre urban rescue and therapy ranch, located at 49
th
and Newport in Omaha. Founder Joy Bartling and a team of volunteers take in neglected animals and give them a renewed purpose providing therapeutic interactions for at-risk children, seniors and veterans.
Volunteers Kim and Tina speak proudly of the challenges their favorite animals have overcome.
"Jessie, a cow, was born without eyes, with a heart murmur and was given a few weeks to live. Joy brought her here, bottle fed her and now she is four," says Kim. "She finds her way around by listening, smelling and using her friend Winston as a seeing eye cow."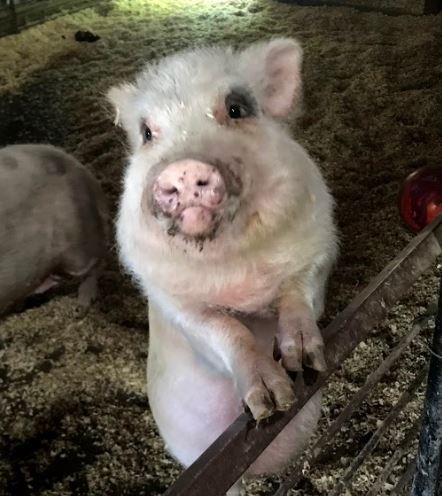 Penelope, a pig, came to the ranch abused and malnourished.
"She looked so desperate and in need of love and care," says Tina. "She has blossomed. She is twice the size she was. Her skin is beautiful. Her mood is so sunny and she is everybody's favorite pig. There is no better place for her than here."
The volunteers of Scatter Joy Acres point to the animals, and the inspiration they offer, as the stars of the ranch. But without the dedicated work of volunteer
ranch hands
and
gate greeters
, the ranch would not be able to operate.
"I know shoveling pig poop doesn't sound very glamourous to a lot of people, but I feel such a sense of accomplishment," says Tina. "And the pigs are grateful."
Garion, a young man who first came to the ranch to pet a horse for his birthday, is quick to point out that you don't have to
shovel poop
.
"You do the jobs you want to do," says Garion.
Just like the animal residents of Scatter Joy Acres, each volunteer has something unique to offer. After getting to know Garion, Joy realized he has a gift for coming up with enrichment items for animals. Currently, he is experimenting with recyclables at home to create prototypes of his ideas. Joy plans to work with a volunteer group of makers to bring his creations to life on a larger scale.
"It's a big honor," says Garion, smiling shyly.
There is a project at Scatter Joy Acres for anyone who finds themselves drawn to the ranch with a desire to share their skills.
"Volunteering, whether at Scatter Joy Acres or elsewhere, is so crucial. It humbles us, gives to those who cannot give and creates a loving community from which we all can thrive," says Joy.
To discover how you can use your skills to serve Scatter Joy Acres, send your
volunteer application to Scatter Joy Acres
now. Chances are, you'll find joy.