Stories
Some call it stories. Others call it a blog. But here you will find nuggets of goodness to use and -- you guessed it -- SHARE!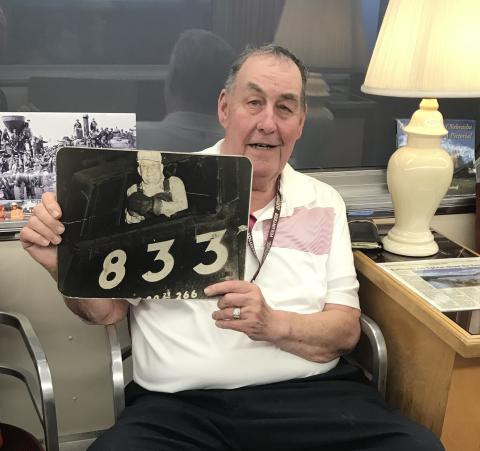 Jack, a Durham Museum volunteer, holds a photo of his grandfather conducting the same train he sits in at the museum.
The Durham Museum is full of treasures. Among the most valuable are the volunteers and the stories they tell. With some volunteers giving more than 400 hours per year, they captivate visitors with tales of Omaha history.
"People don't want to have somebody read a script. They fall asleep. People want to be entertained," says Jack, a Durham Museum volunteer.
Jack came to the Museum after his storytelling talents were discovered on an Ollie the Trolley tour where, as a passenger, he enhanced the tour by sharing additional tidbits of Omaha history with the crowd.
 "I just know Omaha."
Now 12 years later, Jack has narrated metro history to guests from all over the world. He spends most of his time in the Pullman car, which happens to be part of a train his grandfather conducted.
Trains are in Jack's blood. His grandfather, great-grandfather and great-great-grandfather were all employed by Union Pacific, dating back to the 1880s. The car he shows is a part of his family history.
Not only that, he was even a passenger on that train as a child in August of 1947. With the exception of the carpet, "This car is the same as what I saw in August of '47."
"This is the best gig I've had in my entire life, and I've had some pretty good ones," says Jack.
Jack can't be at the Museum every hour and fellow train enthusiasts are always needed to serve as
Train Car Hosts
. Jack would be happy to share a story or two that you can recount.
Mark, a Durham Museum
Gallery Guide
volunteer, enjoys when the temporary exhibits allow him to interact with guests. Each new exhibit theme draws someone new to the Museum and Mark is looking forward to the
Tyrannosaurs: Meet the Family
exhibit opening June 8th. As the exhibits change, Mark keeps volunteering.
"The biggest reason to volunteer is to keep an active lifestyle. If you choose to just sit on your fanny, I guarantee you'll kick the bucket long before you want to," says Mark.
There's a place for every type of
volunteer at the Durham Museum
. You can relate stories as a
Docent
, greet with a friendly smile as a
Welcome Desk Volunteer
or help
facilitate Fossil Fridays
. Check out
15+ ways to volunteer at The Durham Museum
now.