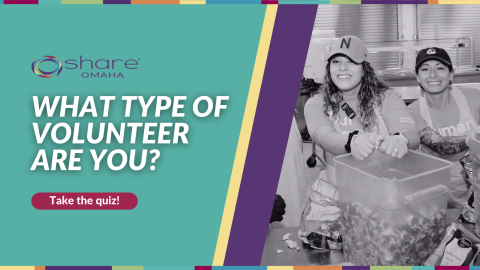 Are you ready to embark on a new volunteer journey, but you aren't quite sure which of the hundreds of volunteer opportunities in the Greater Omaha metro are the right fit for you? We've developed a fun quiz to help you ask yourself: "What type of volunteer am I?"
Because you've arrived here at SHAREomaha.org, we can say with certainty that you seek new experiences and desire positive change for our community. We know it takes some time and thought to find the right volunteerism fit and our quiz is the perfect start to your expedition to uncover your unique volunteering superpowers and revealing the perfect path to channeling your passion for impact.
It's no secret that volunteering is the ultimate power move for the modern-day superhero. You might give your time to be a fierce advocate for animal rights, a supporter of environmental sustainability, or lift up the voices of the marginalized; however you choose to do good, your time, effort and resources matter for moving our region forward.
So, fellow change-makers, grab a cozy spot, grab a cup of ambition, and let your volunteering adventure begin!