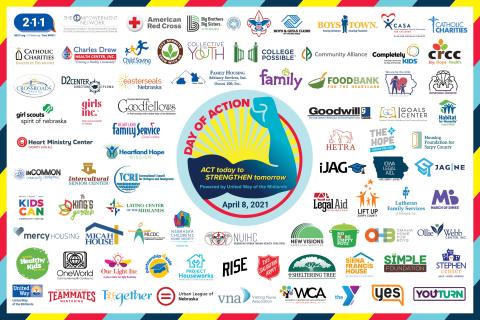 This blog is guest-written by Emily McKenna, marketing coordinator for United Way of the Midlands
This past year brought forth so many challenges for this country and ultimately for our community. COVID-19 has impacted all of us: our loved ones, our neighbors, our co-workers, and more. And we still have a long road ahead of us. For many, recovery— physically, mentally, and economically–will take time. Yet, we are not without hope. Through these dark times, we have learned that our greatest strength is our spirit of community. That spirit of community is especially evident in our local nonprofits who have been on the frontlines of COVID-19 and who have gone above and beyond to serve so many community members during this time.
That is why on April 8th, Day of Action, United Way of the Midlands wants to offer the same steadfast support to these nonprofits that they have provided to our community. There are numerous ways community members can offer support to local nonprofits on this day and throughout April.
Community members have the opportunity to see just what action looks for many local nonprofits by viewing our "This Is What Action Looks Like" gallery at
uwmdayofaction.org
. Each participating nonprofit has submitted a photo and action story to illustrate how their organization has served our community during the pandemic. With 80 trusted nonprofits partners from all across the metro, there are so many powerful stories from our community to view here.
On Day of Action, April 8th, the community will have the opportunity to give to 80 trusted nonprofit partners. These participating nonprofit partners have been on the frontlines of the pandemic, serving a wide range of needs for our community: food insecurity, eviction notices, childcare assistance, and healthcare needs are just some of the challenges they are helping people face. Your gift gives these partners critical support to allow them to continue serving people during this challenging time.
Volunteer opportunities will also be available. On
uwmdayofaction.org
, people can find socially distanced or virtual volunteer opportunities to give back to the community. These opportunities will be available all month long! Whether that's volunteering at a food bank drop-off or sending a digital card to an essential worker, there are so many options to choose from. We can provide you with any volunteer opportunity that works for you!
This is an amazing opportunity, in proximity to
SHARE Omaha's Do Good Week
, for SHARE Omaha and
United Way of the Midlands
to come together to give back to our local nonprofits, who have given so much to our community during these challenging times.