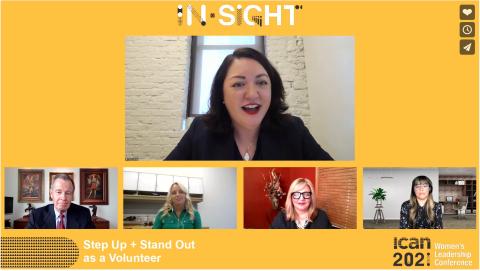 View Panel Discussion HERE

Insights into Service
Recently the locally-based organization
ICAN hosted its annual Women's Leadership Conference
with the theme "
In Sight: Step Up, Stand Out, Stand Together.
" A follow up offered to conference attendees was a panel discussion focused on volunteering as a manner for answering the theme's call.
ICAN invited SHARE Omaha to sculpt and moderate this panel of community leaders
across the spectrum of career stages and roles, from emerging leaders to community trustees and senior executives. Panelists included: Lindsay Borgeson, Senior Vice President of Deposit Services at Core Bank; Gail Graeve, Vice President of Social Impact at Mutual of Omaha; Rodrigo López, Chairman at AmeriSphere Companies; and Lorena Zamarripa, Instructional Designer and Trainer at LinkedIn.
How they stepped up
Panelists revealed personal and professional stories, all telling how volunteerism had enhanced their lives in multifaceted ways. For instance, Graeve relayed how her early career volunteering with Junior League of Omaha yielded a recommendation for a new role professionally because of the skills and talents she exhibited while helping and marketing a local cause. Her advice regarding the value of service to employees was clear, "I think there are so many opportunities for any one to get involved in the community… [Doing so] helps employees grow and develop and [volunteerism] helps them engage." She continued, "When our community is strong, we all can fly in any role. You can reach your potential through community service. Take some risks and take some chances."
Zamarripa let the audience know how early service experience through her alma mater allowed her the realization that knowledge and experience are ever present, especially when serving alongside someone else. "Sometimes going into volunteering, you go in as a helper with all the answers. [My experience] showed me sometimes you can go as a learner and listen to other people's stories." She also showed how skill-specific service opportunities shaped her career trajectory to her present employer and empowered her to ask for what she needed out of the role and time while assisting Latino Center of the Midlands as a computer literacy instructor.
"We do well when we do good for others and our communities." López opened his portion of the panel with that sage advice. He noted among other experiences, a decade of volunteer board of service led to a 15-month tenure as interim President and CEO of Omaha's Children's Hospital and Medical Center. He said this was the one of the most "complex, challenging but rewarding opportunities that I experienced for my entire professional career." He lives by the timeless concept of servant leadership. He credits boards and committees in helping develop traits that makes better servant leaders, skills like: self-awareness, stewardship, motivation and persuasion, listening, empathy acting with humility, a culture of trust, mentoring and foresight.
How you can stand out
Having spotted a board position opening on SHAREomaha.org, Borgeson applied online to Heartland Workforce Solutions, and quickly thereafter met with the executive director and eventually gained board of directors membership. She credits the ease of the search to SHARE Omaha, but she also pointed to a key learning from the ICAN Women's Leadership Conference – rounding up and not underestimating your talents and abilities. Borgeson said, "No matter your experience, no matter your background, you are of value to these organizations. Give your time. Show up. Ask questions…. Bring passion and creativity, and you'll go a long way."
Take Borgeson's lead and example. Find a match for your community interests on SHAREomaha.org. It provides the robust nonprofit database of our community, those organizations seeking support from across our metro area. The platform shows 620+ nonprofits, all with easy ways to connect and start relationships to further the work needed.
Advice for Emerging Leaders
To close the panel, each participant gave parting words to inspire emerging leaders and those considering volunteerism. López said, "You always get more than you what you give when you volunteer." Borgeson followed up with "Be intentional about where you give your time, because then you'll bring your best self and your passion. Go in thoughtful and excited about the organization…coming from a place of truly wanting to give back." Zamarripa quoted a Women's Leadership Conference speaker, Shadé Zahrai, who said, "Our experiences seemingly unrelated can sometimes be a great combination." She also noted that, likewise, our own stories should be used to help others professionally and personally.
Graeve closed out the time with final thoughts, "Don't wait to be asked. It's ok to step outside of your comfort zone and be assertive and step right in and say I'm here and how can I help." She continued, "Think about building your network… Community is about connections, and it's about the opportunity we all have to learn from each other. Community service gives all of us the opportunity to meet people from different backgrounds, perspectives we otherwise wouldn't get to know."
#######
Eager to stand out yourself?
Check out these
committee
and
board member
openings listed on SHAREomaha.org. Filter by cause or impact area in line with your passions, apply for more information, and find your community fit.