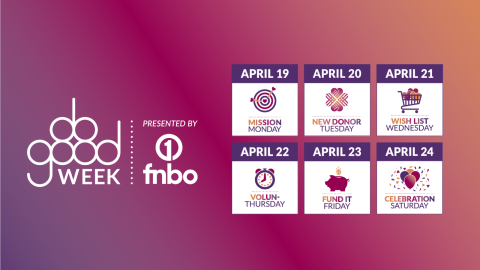 Omaha, Neb – The first Do Good Week, April 19 – April 24, 2021, is a new way of giving and giving back introduced by SHARE Omaha. The week-long event coincides with National Volunteer Week and amplifies the mission of SHARE Omaha. Do Good Week, presented by
FNBO
, is different because it focuses on three major ways for the community to meet the needs of nonprofit organizations through building their volunteer base, fulfilling wish lists of goods needed, and financially supporting their work. The five themed days, more than one day of fundraising, represent the next evolution in community giving and volunteerism for Omaha and Southwest Iowa.  
Executive Director Marjorie Maas said, "SHARE Omaha will keep philanthropy strong in our communities by expanding the ways to participate. But our model is different because organizations, while they always need financial support, also need volunteers and they need supplies for those they serve. SHARE Omaha brings a broad cross-section of the community to wrap help around the hundreds of nonprofits here. Everyone has something to give. It's a new inclusive philanthropy."  
Do Good Week is five days dedicated to community needs.
Mission Monday
is an opportunity to think about the big causes that matter and what values donors hold dear. Donors can plan where they will give or volunteer by exploring the SHARE Omaha website and spread the word about their favorite causes.
New Donor Tuesday
encourages donors to give to an organization they've never supported before. The goal is to help nonprofits expand their donor base for the future.
Wish List Wednesday
is the day to fill the voids for organizations with goods from an online list or with items you're no longer using.
Volun-Thursday
is when people can volunteer time for a favorite organization or someplace new both in person or virtually. Then
Fund It Friday
is the time to give financially, all you can, to vital nonprofits. Finally,
Celebration Saturday
, April 24th will close the week with virtually shared successes, cash prizes for nonprofits and appreciation.  
Do Good Week maximizes your contributions because 100% of your donation goes to the organization if you choose to cover PayPal's low processing fees. SHARE Omaha does not keep a percentage or charge any fees to nonprofits or donors. Using the SHARE Omaha platform allows you to volunteer, give and locate wish lists all in one place.  
"SHARE Omaha works year-round to support nonprofits and to transition the thinking of generosity beyond one-day campaigns. This philosophy is more sustainable for those nonprofits that need donors, volunteers and support," said Maas.  
You can check the SHARE Omaha website,
www.shareomaha.org
, for the latest on what nonprofits are planning, what they need money to accomplish and what they are achieving.
###  
Contact:  Marjorie Maas, Executive Director
Email:
marjorie@SHAREomaha.org