Stories
Some call it stories. Others call it a blog. But here you will find nuggets of goodness to use and -- you guessed it -- SHARE!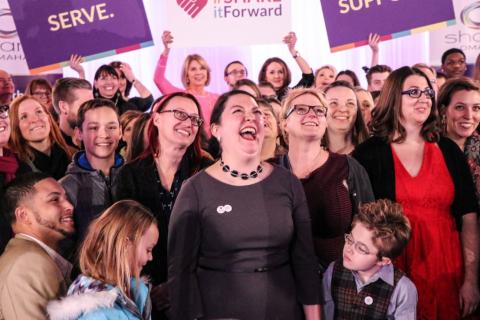 Two short months ago the "coming soon" page disappeared and SHAREomaha.org went live. There in one centralized place were 150 local nonprofits who came together to share their needs, 193 volunteer postings and 840 wish list items, with the community. Collectively, we held our breath. Would the Omaha metro see the need of our nonprofits and respond?
And you did. On day one donations came, volunteer applications were submitted and wish list items were purchased and sent to our local nonprofits. And they haven't stopped coming.  Now on day 64, the metro is using SHAREomaha.org as a tool for every day philanthropy.
Thank you
for embracing SHARE Omaha as a gateway to do good, 365 days a year.
So how much good are you doing? To date, over 600 items have been purchased and shipped directly to nonprofits helping them carry out their missions. Among those who choose to give cash, the average donation is $49.24. And a new legion of volunteers is being sent out into the Omaha metro, with 471 pledges from individuals and businesses to serve specific needs. You are doing something to support the nonprofits who work tirelessly to transform our community into a better version of itself.
Every day additional nonprofits are adding their needs to SHARE Omaha. As of this morning the SHARE Family numbers
284
with
461 volunteer requests
and
over 1500 wish list items
needed.
So where do we go from here? As we near April's National Volunteer Week, we need your help to rally your network to go out and serve. But the needs of the metro are too great and our desire to make an impact is too overwhelming to contain in one week. So, April will be (do)GOOD month in the Omaha metro.
Will you commit to starting a new volunteering journey in April for (do)GOOD month? You can start small, sampling an opportunity on SHAREomaha.org. Or, in true metro fashion, you can go big. Get your whole office involved or take on a project that uses your skills to the fullest. No matter how you choose to start, please don't delay.
Apply for a volunteer opportunity now
to help us get one person closer to our goal of 500 volunteer pledges to serve the metro in April.
Photo credit: Debra Kaplan