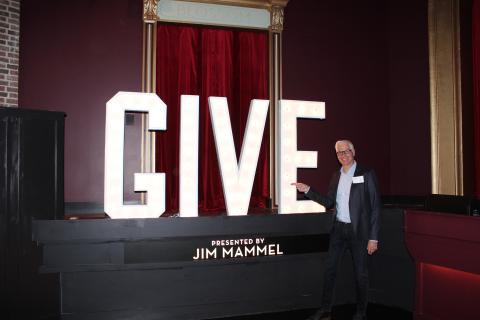 SHARE Omaha and SHARE Iowa partner on larger, community-wide Giving Tuesday
The partnership means even more residents can make a difference in their communities.      
Contact:
Katie Fourney
Marketing and Communications Manager, SHARE Omaha
katie@shareomaha.org
712-310-4396
Linda Lovgren, APR
Strategic Counsel Emspace + Lovgren
lovgren@emspacegroup.com
402-677-4407
---
What: Join in our region's largest annual giving celebration on Nov. 29, 2022 and celebrate what we can do together in 24 hours. Donate to your choice of hundreds of local nonprofits with SHARE Omaha and the newly launched SHARE Iowa.
Why: During this season of giving, it is easy and fun to donate to causes you are passionate about in just a few clicks, donate items or plan special volunteer events for the day. Support animals, children, veterans, the environment and more. Giving Tuesday in the metro is a partnership of SHARE Omaha and SHARE Iowa, with support from Core Bank for Giving Tuesday 402 and TS Bank for Giving Tuesday 712.
Who should participate: Residents in the Greater Omaha Metro and Western Iowa. Participants can find Dodge, Douglas, Sarpy, Saunders and Washington county nonprofits to support at SHAREomaha.org. SHARE Iowa, new to Giving Tuesday events, covers counties in the western part of the state, including Cass, Fremont, Harrison, Mills, Monona, Montgomery, Page, Pottawattamie and Shelby counties. Neighbors across the region are encouraged to give to organizations that matter to them on Nov. 29.
New this year: Todd Simon, CEO of Omaha Steaks, has made a company commitment to spur raising a six-figure Giving Tuesday bonus fund for nonprofits. Simon together with SHARE Omaha and SHARE Iowa are calling upon other businesses and executives in the Metro to join in this leveraging effort. This bonus fund will be split among participating nonprofits on Giving Tuesday in hopes that our community surpasses $5.5 million raised. Companies interested in learning more about this opportunity, or participating, can contact Marjorie Maas at marjorie@shareomaha.org or for Iowa-based businesses, Donna Dostal at ddostal@givewesterniowa.org.
Community Foundation for Western Iowa endowment funds: This year, the Community Foundation for Western Iowa has a $250,000.00 pool of funds for a 20% match on gifts to endowment funds within the Community Foundation. The 20% match is on gifts up to $100,000.00 per fund, and after the pool is used, the match will go to 10%.  See who has endowed funds with the Community Foundation for Western Iowa at www.givewesterniowa.org or reach out to Kelly Dix at: kdix@givewesterniowa.org.
Giving ambassadors: This year, SHARE Omaha is creating a Giving Tuesday Ambassador Committee to increase awareness of Giving Tuesday, specifically in the North and South Omaha communities.  This impactful group of community leaders will commit to a short-term effort to mobilize their neighbors Nov. 29.
Each committee member will attend four virtual prep sessions and select Giving Tuesday projects to lead. Examples include organizing a blood drive, leading peer-to-peer fundraising for their favorite nonprofit, planning a neighborhood clean-up, hosting a hygiene item collection drive or spearheading an advocacy effort. SHARE Omaha in turn will support each leader's project and make a $100 donation in their honor to the nonprofit of their choice. Those interested in igniting generosity in the metro should email Katie Fourney at katie@shareomaha.org for more information.
 ####
About SHARE Omaha: SHARE Omaha was created by local philanthropists to help area nonprofits fulfill their missions by recruiting donors to share money, material goods and time. Over 650 nonprofits are registered on the SHARE Omaha platform. SHARE Omaha does not charge any fees to nonprofits and does not keep any portion of what is donated. The SHARE Omaha platform is available 365 days a year so everyone can do good every day at SHAREomaha.org.
About SHARE Iowa: SHARE Iowa is a one-stop donation platform for sowing good to nonprofits in nine counties throughout Western Iowa. Powered by the Community Foundation for Western Iowa, SHARE Iowa connects neighbors to easy ways of doing good through financial giving, in-kind donations of items and volunteerism. Iowans now have more opportunities to yield positive outcomes in their communities and learn more about organizations that impact people in their neighborhoods, towns, cities and state. Through SHAREgoodiowa.org, nonprofits can raise awareness about their missions, harvest generous resources and grow support.