Stories
Some call it stories. Others call it a blog. But here you will find nuggets of goodness to use and -- you guessed it -- SHARE!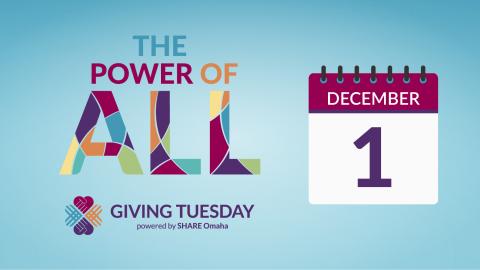 As the saying goes, sharing is caring.
On Giving Tuesday, sharing is something everyone can do to participate – even if you're not active on social media.  
While posting and following and liking on Facebook, Twitter and Instagram about all the good happening on Dec. 1 is highly encouraged, sharing also means giving gifts, giving our time and giving pieces of ourselves. It's all important on Giving Tuesday.  
Giving Tuesday: Harnessing the Power of All
 
For the second year, SHARE Omaha will power
#GivingTuesday402
in the Omaha metro and
#GivingTuesday712
in Southwest Iowa. Efforts to energize people to
give together
,
do together
and
share together
are sponsored by Core Bank for #GivingTuesday402, and by TS Bank in Southwest Iowa for #GivingTuesday712.  
It's all good news, and it's all something we can proudly share not only on social media, but within our circle of friends, at our workplaces and in our neighborhoods.  
SHARE and Share and Like
Sharing the stories about Giving Tuesday, especially this year, is about being a beacon of hope in these difficult times. Every story, every act of kindness, every nonprofit helping out our neighbors all mean something. It's up to us to showcase these uplifting stories and to share this goodwill with others. For example,
The Secret Kindness Agents are tying items of warmth on trees at Midtown Crossing
. Just like last year, this group will be out celebrating the day by sharing items for those in need of scarves, mittens, hates, hygiene products, non-perishable snacks, and socks. To be an Agent "like" their
Facebook group.
Below are additional ideas on how to be a bright light in these dark times:  
Light your home in purple in support of #GivingTuesday402 or #GivingTuesday712
Wear festive purple attire on Dec. 1
Chalk your sidewalks or paint your windows with messages supporting #GivingTuesday402 or #GivingTuesday712
Encourage your business to change its marquee to a message supporting this local giving day
Hang posters and balloons to announce your participation in #GivingTuesday402 or #GivingTuesday712
Utilize social media graphics to invite friends
Take action and tag us at @SHAREomaha to invite others to join 
Dare to SHARE
Sharing is something we teach our youngest children – the concepts of taking our turns, cooperating with others, playing fairly and being respectful are all lessons we learn when we share…and of course these apply to adults, too.  
When we have enough, we share. When we have something important to say, we share. Even when we're fighting a global pandemic, we share.  
Giving Tuesday
is happening on an international level – these acts of giving, doing and sharing are happening all around us. Let's unleash the power of people and our humanity, and express our generosity together. We can show our collective strength by transforming our community in unison with our brothers and sisters around the world.