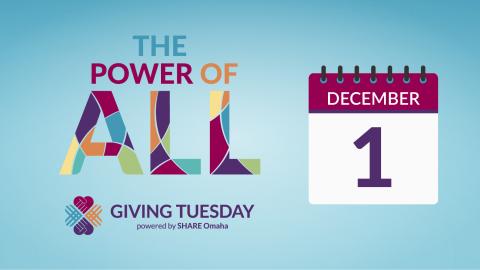 Simply put, we give back because it feels good.
Doing good deeds, whether it's sharing gifts, time or kindness, gives us a warm-glow feeling — a sense of joy and satisfaction that comes with helping others.
Research has also shown that people are more likely to donate to a specific person's cause versus an abstract problem or a large group of people. Understanding a person's story develops a deeper emotional connection and elicits a desire to help.
So in a year that's been challenging for everyone, when everyone has experienced suffering or knows someone who has, the stories are abundant. However, so are the amount of giving opportunities.

Whether you choose to support large, medium or small nonprofits, or the neighbor down the street, what you're really doing is lifting a fellow human up. In many cases, it takes a lot of courage to ask for help, and you'll be impacting their lives in a meaningful, lasting way.

Giving Tuesday: Harnessing the Power of All

On Dec. 1, we have the opportunity to show our collective strength by giving and doing all we can — at this unprecedented time of need — for the future of our community.

For the second year, SHARE Omaha will power #GivingTuesday402 in the Omaha metro and #GivingTuesday712 in Southwest Iowa. This is the time to give together, do together and share together.

It's a chance to show we're all in this together. Everyone has something to offer. Whether giving, doing or sharing, we all have ways we can help each other.

Hundreds of nonprofits in our community have organized ways we can help through Giving Tuesday. You don't have to wait until Dec. 1 to get started. Here are some ways to start planning and gathering ideas for how to help:
Search SHARE Omaha to find a cause that matters to you

Buy a ticket to a fundraising event, or organize your own event to raise funds

Host a workplace giving campaign

Encourage your favorite local business to donate a percent of sales (of an item or the whole day) to your favorite cause
Creating Closer Connections
In our social-distancing state, establishing and maintaining relationships with others is more important than ever. People need to feel connected to each other. We are grateful to our sponsors, Core Bank for #GivingTuesday402, and TS Bank in Southwest Iowa for #GivingTuesday712 for supporting this day to fill that need. From forming new bonds with fellow volunteers to getting to know people who require help, and more, giving of ourselves can make for a stronger community as a whole.
And, these acts of good are connected to the larger Giving Tuesday event - a global generosity movement designed to unleash the power of people and organizations to transform communities around the world.
Let's harness the power of all this year, and show our collective strength by giving and doing all we can, and ensure a brighter, better future for everyone.