Stories
Some call it stories. Others call it a blog. But here you will find nuggets of goodness to use and -- you guessed it -- SHARE!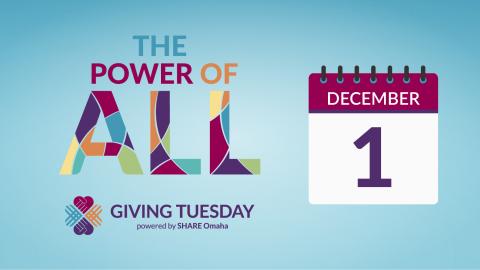 We do what we do because of our "why."
In other words, what motivates us is often more than the action itself – it's the meaning behind it that is the real driver.  
Having a clear "why" gives you a context for your life and can help you focus how you spend your time. And, your passions in life can help inform how you want to give your time to others. Volunteering can add another layer of purpose to your life, and can help connect you to micro-communities of like-minded people.  
At SHARE Omaha, our "why" is to help nonprofits fulfill their missions. This is our guiding light and the reason we stay so enthusiastic about our community. We see incredible changes and lives improved every single day. We want you to experience this, too, and an important opportunity is coming up on Dec. 1: Giving Tuesday.  
Giving Tuesday: Harnessing the Power of All
For the second year, SHARE Omaha will power
#GivingTuesday402
in the Omaha metro and
#GivingTuesday712
in Southwest Iowa. Efforts to energize people to
give together
,
do together
and
share together
are sponsored by Core Bank for #GivingTuesday402, and by TS Bank in Southwest Iowa for #GivingTuesday712.  
Our local acts of good are connected to the larger
Giving Tuesday
event – a global generosity movement designed to unleash the power of people and organizations to transform communities around the world.  
Let's show our strength as a community by giving and doing all we can — at this critical time — to lift one another up.  
Living Your Purpose
It has been natural to feel helpless during these last few months. Everyone is struggling. On Dec. 1, we can all come together and help each other out. It's a chance to do something small, with significant collective impact.  
Every act on Giving Tuesday counts – it all matters. Every person matters. We're all in this together.  
Hundreds of nonprofits in our community have organized ways we can help through Giving Tuesday. You don't have to wait until Dec. 1 to get started. Here are some ways to start planning and gathering ideas for how to transform your ideas into action.  
Volunteering
Find volunteering opportunities – in-person or virtual – at SHAREomaha.org
Donate your skills to a cause that matters to you
Host a volunteer activity at your work, benefiting a nonprofit, for staff and customers
Encourage your company to announce a Volunteer Time Off (VTO) plan for 2021
Acts of Kindness
Surprise friends or strangers with an act of kindness in honor of #GivingTuesday402 or #GivingTuesday712
Write notes of encouragement to students, seniors and essential workers
Deliver treats or meals to clients, neighbors, essential workers and those in need
Get creative! Any act of good moves us all toward a better future
Socially Distanced and Making a Difference
The idea of volunteering right now may make you feel a little anxious, with COVID-19 rates still very high in our communities. It's understandable to want to keep your distance.  
Rest assured all area nonprofits want to keep their volunteers safe and healthy. You are encouraged to seek out opportunities where you feel the safest and to ask questions of those organizing events to see if they meet your needs. Even better, many volunteer opportunities can happen in the safety of your own home!  
And, research has shown that volunteering can actually improve your health. 
1.              Volunteering decreases the risk of depression.
2.              Volunteering gives a sense of purpose and teaches valuable skills.
3.              Volunteering helps people stay physically and mentally active.
4.              Volunteering may reduce stress levels.
5.              Volunteering may help you live longer.
6.              Volunteering helps you meet others (even virtually) and develop new relationships.  
Volunteering and acts of kindness are just one aspect of Giving Tuesday. You can get involved in other ways, like donating funds or items, or sharing the message of Giving Tuesday or your favorite nonprofit with others. We'll have more ideas in our next blog of ways everyone can be a bright light and a beacon of hope.