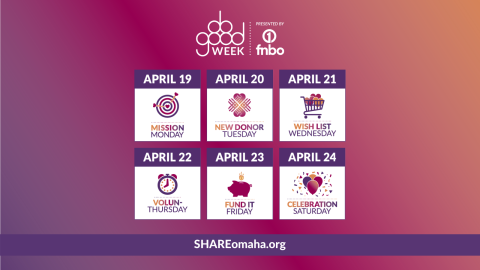 Omaha, NEB – SHARE Omaha, now two years old, has provided the Omaha/Council Bluffs metro with a new portal for philanthropy.  SHARE Omaha is the newest way to promote and communicate philanthropic activism. Itself a nonprofit, SHARE Omaha offers an online place for nonprofits to consolidate their needs and a place for donors and volunteers to find organizations that meet their goals. It provides one website, SHAREomaha.org, where organizations can share their volunteer needs, their cash needs and their wish list of items. The website is also the single place where donors and volunteers can access over 500 nonprofits to find the ones that best fit their goals for contributing to doing good in the community.
Marjorie Maas, SHARE Omaha executive director said, "The pandemic has heightened the need for philanthropic activism and this trend is reaching across the country. Philanthropic activism is a catalyst for positive change and for solving problems like education, hunger, health and wellness, homelessness, equity and inclusion. SHARE Omaha is where the organizations who are working on these and many other concerns can reach out to their communities for support and the community can give back." 
Last year, with the pandemic sweeping the country, nationally the number of people giving increased by 10% and gifts of less than $250 grew by over 15%. Nonprofits in the metro also saw giving increase and April 19-April 24, SHARE Omaha is launching the first ever Do Good Week, also a chance to fill in where the Omaha Community Foundation's Omaha Gives left off last year. It is five themed days set to ignite the many ways of doing good in the Omaha/Council Bluffs area. 
Maas added, "Whether you can volunteer, buy or give something to fulfill a wish list, or donate money, there is a way for everyone to be part of Do Good Week. Omaha is known for its generous spirit, and Do Good Week is poised to show just how much the metro community believes in philanthropic activism."
SHARE Omaha's Do Good Week is presented by First National Bank Omaha (FNBO) and supported by media sponsors KETV, NRG Radio Group and the Omaha World Herald. In addition, FNBO, Omaha Steaks and Pottawattamie County Community Foundation are sponsoring a nonprofit cash prize bank of $37,000 with winners announced on April 24th, Celebration Saturday.
###