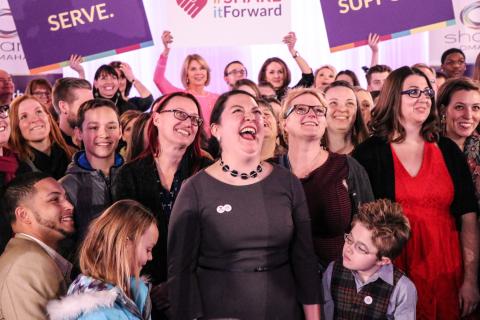 SHARE Omaha's founding executive director Marjorie Maas is taking her passion and talent national as the new chief executive officer of Share Good, the nonprofit hub powering SHARE Omaha and six other current communities!
Hired in September 2018, Marjorie built SHARE Omaha from the ground up. She was inspired by the vision of local philanthropists and foundations; Marjorie was the woman to launch a new online gathering place, SHARE Omaha, that would connect givers and local nonprofit organizations and inspire us all to turn our passion for causes into action. Marjorie formed a team of staff and used her "woo" to build the metro's excitement for this giving innovation, SHAREomaha.org, which launched with fanfare on January 17, 2019, with over 150 participating nonprofits.
"Taking a concept to implementation requires an entrepreneur with the skills to put it together and engage others in the vision. Marjorie has done that and built a strong foundation from which SHARE Omaha will grow," said Scott Hazelrigg, NorthStar Foundation president.
In a little under 4 years, local givers have proven what's possible when opportunities to give time, talent and treasure are centralized and engagement is easy. Under Marjorie's leadership, over 240,000 unique visitors have explored nonprofit profiles and needs. Over $7.7 million has been raised during SHARE Omaha campaigns, from all giving sources, and 7,700 volunteer applications submitted.
"When you meet Marjorie, you are immediately struck by her passion and zest for everything she does.  It is transformative and infectious.  She is a fearless leader who is never afraid to take on new challenges.  She dreams about what can be and then she pushes to make it a reality," says Susie Nelson, Angels Among Us executive director.
Donna Kush, SHARE Omaha board member shares, "Marjorie embodies the ultimate model of building community. Her passion drives her, and her thoughtful leadership drives others to engage and follow. The results strengthen not only our nonprofits and those they serve, but also community members who find a place to seed their own passions and gifts. Thankfully, her infectious energy could fuel an entire community, and her collaborative spirit fosters a voice for all."
Marjorie's promotion will bring a new SHARE Omaha executive director to lead the organization into its next chapter. We can't wait to "share" this news in the coming days!
Congratulations, Marjorie! From SHARE Omaha's staff and board, we look forward to seeing Share Good evolve under your leadership. Thank you for our time together; we are grateful for all the lessons learned, laughs had, and every single "circle moment" of impact.
And now, we announce SHARE Omaha's next executive director... CLICK to read the announcement!