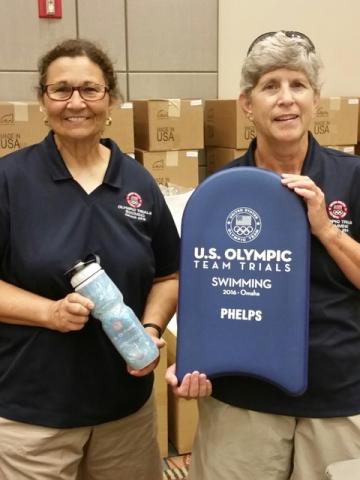 This blog is guest written by Ana Bellinghausen, Sports Marketing Intern at Omaha Sports Commission
Jan Churchill and Connie Mangano's connection began back at Norris Middle School more than 30 years ago as teachers and coaches.
"I remember walking into the school with Jan the first day and just knowing that she was someone I was going to walk out of this school with on my last," Mangano said.
Mangano and Churchill worked alongside another teaching and coaching the middle school swim team. This was just the start of an opportunity that would become a staple in Mangano and Churchill's life.
From their involvement with the swim community, Mangano and Churchill were asked to volunteer for the 2008 Olympic Swim Trials, the mega-event hosted by the
Omaha Sports Commission
at the former "Qwest Center". From there on is history, as the duo volunteer every Olympic year since.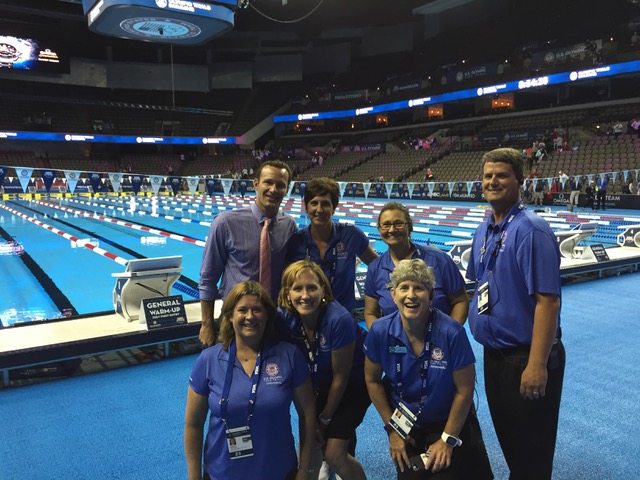 "I remember my first trials in 2008 and I couldn't believe the vastness of it, the number of volunteers, and the amount of organization it takes to host such an event," Churchill said.
Churchill and Mangano volunteer as the head of all basket carriers at the swim trials, which includes 100 volunteer students that run baskets of the athletes' gear from the start to finish of races. (
Sign up to volunteer for the 2021 Olympic Swim Trials here
.)
"I don't think people realize how much work goes into the swim trials," Mangano said. "Volunteering really opened up my eyes and it's a thrill to be a part of."
One of the pair's favorite memories was that first 2008 Swim Trials that featured a young Michael Phelps who was on the brink of greatness in the ensuing Olympic games.
Phelps just finished his race and sat right next to the basket carrier's row. Phelps took a photo with the students, Mangano and Churchill. Mangano still has that picture from 2008 hanging on her fridge.
"It's the fun, excitement and the people that keep us coming back," Mangano said.
However, 2020 met Mangano and Churchill with disappointment as sporting events across the nation cancelled one after another.
"It broke our heart to see the trials not happen in 2020, we really felt sad for the kids that wouldn't get to experience it," Churchill said.
Volunteering as a basket carrier is usually a once-in-a-lifetime experience for the students who volunteer, and fortunately 75 of the 100 can return for the 2021 rescheduled dates, Churchill said.
Churchill and Mangano's lifelong friendship continues to grow as they volunteer for nearly every Omaha Sports Commission event from the swim trials to the Olympic Curling Trials and the upcoming
Valley O.NE Marathon
.
"It's all of OSC behind this that gets events like these and the people of Omaha, including us, love it," Churchill said. "We're just happy to be a part of it."
If you're interested in volunteering, donating, sponsoring or attending Omaha-area sporting events, please visit omahasports.org or submit your interest on
Omaha Sports Commission's SHARE Omaha profile
.