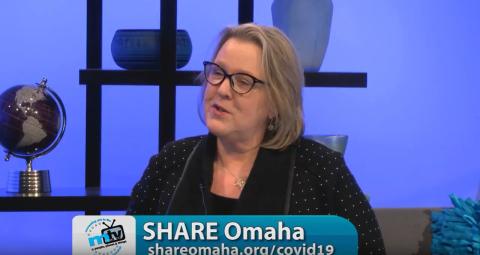 As the Omaha metro is adapting to the ever-changing landscape of how we should respond to the COVID-19 pandemic, local media broadcasters have been on the frontlines providing timely information for us as citizens.
SHARE Omaha commends the local reporters who are tirelessly reporting on CDC and state guidelines and support services available for those in need, such as food pantry and unemployment services. We've been inspired by the local journalists who are remembering to ask: How is COVID-19 impacting the vital nonprofits who serve the most vulnerable in our community?
These news reporters have identified that when the Omaha/Council Bluffs metro begins to rebound, local human services nonprofit organizations will guide long-term recovery for our neighbors. Andee Hoig of metroTV discussed ways we can begin to support nonprofits now on the
March 20th edition of her broadcast
. Betsie Freeman of the Omaha World Herald published an
article
that included ways local nonprofits are accepting support. Quanecia Fraser of KETV reported on
ways you can give back locally while at home
.
In an effort to keep nonprofit needs forefront, SHARE Omaha is continually updating information about how we can all contribute at
SHAREomaha.org/COVID19
. In addition to relevant news reporting, local broadcast stations have volunteered this public service announcement below in support of the entire Omaha metro nonprofit community.
As the public service announcement states, "The coronavirus greatly impacts the nonprofit work that benefits all of us and is vital to the strength of our community. Canceled fundraisers, events, concerts and programs mean charitable causes must now look for new ways to meet their budget needs and carry out their missions. These missions serve metro area families and seniors, animals and youth, veterans and the environment. They unite the metro and define who we are as a community. Without your help, many nonprofits face hard decisions for the future of serving our vulnerable neighbors. You can make a difference at
SHAREomaha.org/COVID19
."
When we asked media outlets why they are supporting this effort, we heard:
"As a nonprofit public radio station, we are here primarily because of community support. In turn, we have always sought to amplify the voices of local nonprofits to help strengthen public engagement and promote a healthier community. At this critical time for the most vulnerable among us, our role as a trusted source of information is more important than ever." -Ken Dudzik,
KIOS
station manager
"Summit Media-Omaha and it's 5 radio brands (Z-92, Channel 94.1, Star 104.5, Classic Rock 105.9 and AM590 ESPN) are proud to partner with SHARE Omaha in supporting non-profits and local charities who are in need of help. At Summit Media-Omaha we have a motto of "Summit Serves" as we make it a top priority to give back to our community. We encourage our listeners and all our fellow Nebraskans to serve however you can during this time." – Johnny Murray,
Summit Media-Omaha
"Nonprofits are essential to our community; both when we are thriving and when we are challenged," said Calli Hite, senior public affairs manager for
Cox Communications
. "We are committed to supporting SHARE Omaha, nonprofits and also small businesses during this time by providing access to public service announcements to keep them connected and educate the community on how – despite these immense challenges – how they continue serving clients and customers."
"Local nonprofits drive outcomes for so many in need in our community. The value and speed with which they can impact our community are unparalleled, this is why iHeartMedia provides public service announcement outreach for our charities and partners with so many of them who do so many good things. As broadcasters, our ability to partner with others to give back is crucial to the long-term health and vibrancy of our community." -Rhonda Gerrard, SVP Sales
iHeartMedia Omaha
Mark Shecterle, General Manager for
NRG Media Omaha
(Sweet 98.5, Power 106.9, 101.9 The Keg, 1620 The Zone, News Talk 1290, 99.5 La Nueva and 1180 The Zone2) stated, "Everyone has been impacted by COVID-19, and as broadcasters who support the local communities, it's our job to support local businesses and non-profit organizations during this extremely difficult time. We have started a "Support Local" initiative on all seven of our radio stations, on all of our websites as well as using our social media vehicles including Facebook. Everyone can do something to help out, and we are going to do everything within our power to help our friends and neighbors during this horrible time."
Thank you to all of the local broadcasters and news management teams who are using their talents and resources to support the Omaha/Council Bluffs nonprofits who strengthen the metro.