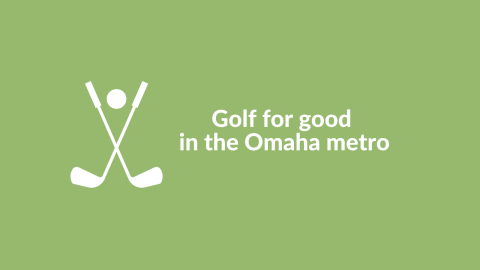 It's time to get out on the greens and enjoy the sunshine while doing good. RSVP now to your favorite golf events in support of great causes. Enjoy a day on one of the many great golf courses throughout the Omaha metro. With each swing, you'll help a meaningful local organization raise the funds they need to continue their vital work.
Bags of Fun Omaha
Golf Tournament
June 6, 2022
Indian Creek Golf Club – Elkhorn  
Goodwill Industries, Inc., Serving E NE & SW IA
23rd Annual Goodwill Golf Classic
June 13, 2022
The Player's Club at Deer Creek – Omaha  
The Hope Center for Kids
20th Annual Hope Golf Classic
June 13, 2022
Field Club of Omaha - Omaha  
The Lane Thomas Foundation
Chris Jessen Golf Classic
June 16, 2022
The Club at Indian Creek – Elkhorn  
Angels Among Us
Bland Cares Golf Outing
July 11, 2022
Eagle Run Golf Course – Omaha  
Gesu Housing, Inc.
Help Build a House Golf Event
July 25, 2022
Champions Run – Omaha  
Partnership 4 Kids
2022 Swing 4 Kids Golf Benefit
July 25, 2022
Tiburon Golf Club – Omaha  
Lungs4Life Foundation Inc.
Fairways FORE Airways
August 5, 2022
Tiburon Golf Club – Omaha  
Jennie Edmundson Foundation
Spirit of Courage Golf Tournament
August 6, 2022
Dodge Riverside Golf Club – Council Bluffs  
CASA for Douglas County
CASA Classic
August 22, 2022
Oak Hills Country Club – Omaha  
Nebraska Ataxia
Golf Challenge
August 22, 2022
Tiburon Golf Club – Omaha  
Heartland Family Service
29th Annual Safe Haven Golf Tournament
August 26, 2022
Eagle Hills Golf Course – Papillion  
Lutheran Service Corps
Charity Golf Tournament
August 28, 2022
Eagle Hills Golf Course – Papillion
Youth Emergency Services
YES Golf Outing Presented by Union Pacific
August 29, 2022
The Players Club at Deer Creek  
Greater Omaha Chapter of AFCEA
Annual Golf Tournament
September 9, 2022
Willow Lakes Golf Course - Bellevue  
KVC Nebraska
10th Annual KVC Classic Golf Tournament
September 9, 2022
Ashland Golf Club – Ashland  
Camp Quality Heartland
15th Annual Golf Tournament
September 11, 2022
Eagle Hills Golf Course - Papillion  
Exchange Club of Omaha Foundation
Tee Off Against Child Abuse (TOACA) Charity Golf Classic
September 12, 2022
Field Club of Omaha - Omaha  
Trivium Life Services
11th Annual Charity Golf Tournament
September 16, 2022
Bent Tree Golf Club – Council Bluffs  
United Cerebral Palsy of Nebraska
Hit the Links Drive Against Disabilities Golf Tournament
September 20, 2022
Indian Creek Golf Course – Elkhorn  
Bags of Fun Omaha
TopGolf Fundraiser
September 22, 2022
TopGolf - Omaha
Completely Kids
FORE! the KIDS
September 26, 2022
Field Club of Omaha