Giving Tuesday reveals growing power of doing good metro-wide
Local nonprofits win new support in "Do Good" takeover powered by SHARE Omaha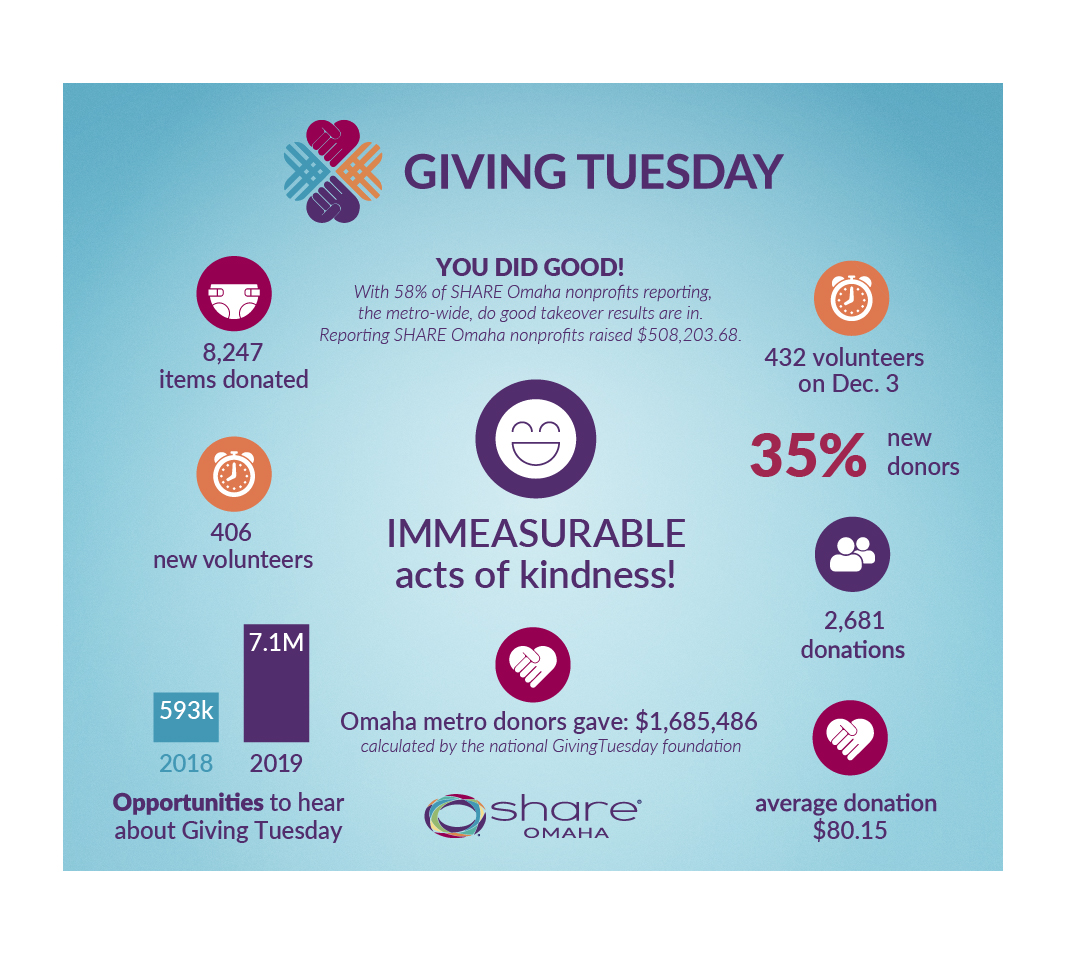 Giving Tuesday 2019, powered by SHARE Omaha, turned out to be a memorable day for local nonprofits in Omaha and Council Bluffs. Organizer Marjorie Maas said results from the first-ever "do good takeover" tell a promising story.  
Opportunities to hear about Giving Tuesday multiplied, from a few hundred thousand in 2018 to upwards of seven million this year, according to media and advertising metrics tracked by Universal Information Services. 15-second commercials and some 200 SHARE Omaha members invited everyone in the Omaha-Council Bluffs metro area to do some good and be part of Giving Tuesday. The global generosity movement now inspires over 200 community campaigns nationwide.
On the SHARE Omaha and Giving Tuesday websites, thousands of people spent hundreds of hours exploring ways to give.  
SHARE Omaha partners
say 432 people volunteered their time on Giving Tuesday at sites across the metro.  Another 406 took the first steps to become volunteers.  
Others purchased more than 8,000 wish list items or donated. Reporting SHARE Omaha nonprofits raised an excess of $500,000 with an average donation of about $80. The national GivingTuesday foundation's data indicates that giving from Omaha metro donors topped $1.68 million on December 3rd.   
Best of all, local nonprofits report more than one-third of their Giving Tuesday gifts came from first-time donors, an exciting stat for Giving Tuesday partners.  
Maas sees no limits on the growth of Giving Tuesday. "Giving Tuesday creates a sense of community around kindness. Who doesn't want more of that."