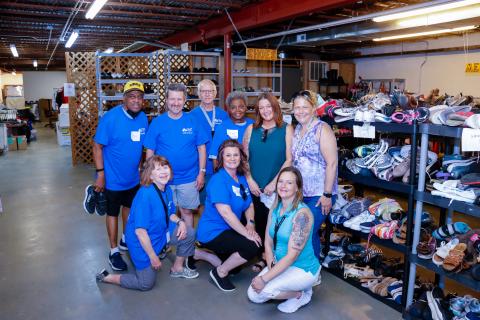 SHARE Omaha and SHARE Iowa are looking to grow volunteerism during Do Good Days on April 19-22, 2023. The two organizations' year-round community efforts have been instrumental in helping nonprofits across the region with financial support, fulfilling wish lists and recruiting volunteers. SHARE Omaha and SHARE Iowa's 2023 Do Good Days campaign will focus on rebuilding the volunteer base desperately needed by nonprofits across the midlands, with the goal of 500 volunteer sign-ups during the four days to jumpstart a new wave of contagious volunteerism, that can continue through the year. Do Good Days falls within National Volunteer Week.
Executive Director of SHARE Omaha Teresa Mardesen said, "Through an informal survey, we discovered that nonprofit organizations across our area are short an average of 88 volunteer hours each week. National data shows that each volunteer hour completed is the equivalent of $30 of value to the nonprofit served. This creates a gap of $1.8 million in value across over 700 nonprofits each week that organizations need to complete their mission work."
Mardesen went on to explain that during the pandemic many volunteers were not able to provide help in person and are looking for ways to return and volunteer in new ways. Omaha and Southwest Iowa nonprofits need hundreds of volunteers across the over 700 organizations represented on the SHARE websites at shareomaha.org and shareiowa.org.
While SHARE Omaha and SHARE Iowa continue to work with all the organizations served 365 days a year by the searchable platforms to raise money and promote events and wish lists, this year Do Good Days is especially focused on volunteerism. Corporations, civic organizations and small businesses are encouraged to do a group project, promote employee volunteering, hold an office collection drive or promote additional ways to do good during Do Good Days.
Three companies are focused on uplifting community needs during these four days: Lincoln Financial Group as the Do Good Days Champion for Education, Metropolitan Utilities District as the Do Good Days Champion for Housing and Omaha Steaks as the Do Good Days Champion for Hunger. Opportunities to make a difference for education, housing, hunger needs and more are available now at shareomaha.org/dogooddays.
Businesses, families, individuals and organizations across the metro can access the SHARE platforms any day of the year to find much-needed volunteer opportunities, give financial help to multiple nonprofits through a streamlined check-out process, discover upcoming events or buy wish list items or  — simply go to shareomaha.org or shareiowa.org.
###
About SHARE Omaha: SHARE Omaha was created by local philanthropists to help area nonprofits primarily in Dodge, Douglas, Sarpy, Saunders or Washington counties fulfill their missions by recruiting donors to share money, material goods and time. Over 700 metro nonprofits are registered on the SHARE Omaha platform. A one-stop donation platform, SHARE Omaha does not charge any fees to nonprofits and does not keep any portion of what is donated. The SHARE Omaha platform is available 365 days a year so everyone can do good every day at SHAREomaha.org.
About SHARE Iowa: SHARE Iowa is a one-stop donation platform for sowing good to nonprofits in nine counties throughout Western Iowa. Powered by the Community Foundation for Western Iowa, SHARE Iowa connects neighbors to easy ways of doing good through financial giving, in-kind donations of items and volunteerism. Iowans now have more opportunities to yield positive outcomes in their communities and learn more about organizations that impact people in their neighborhoods, towns, cities and state. Through SHAREgoodiowa.org, nonprofits can raise awareness about their missions, harvest generous resources and grow support.
Image