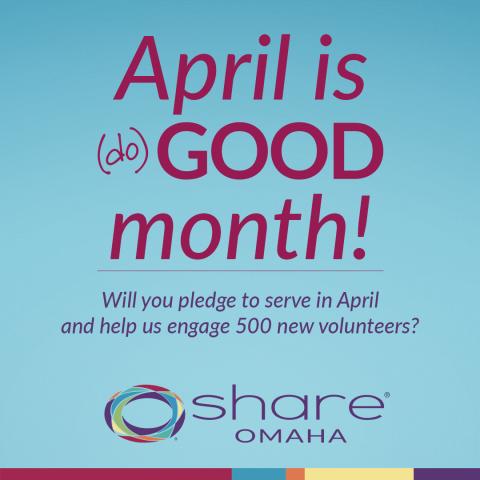 Each year, National Volunteer Week falls in April. But the needs of the metro are too overwhelming to contain in one week. So, SHARE Omaha is declaring April (do)GOOD month in the Omaha metro!
Will you commit to volunteer in April for (do)GOOD month?
You can start small,
sampling an opportunity
on SHARE Omaha. Or, in true metro fashion, you can go big.
Get your whole office involved
or take on a project that uses your skills to the fullest. No matter how you choose to start, send your interest to one of our local nonprofits today.
You can also connect with us in person at a (do)GOOD month event to identify your ideal volunteer opportunity or learn more about serving on a board of a nonprofit. Claim your free tickets now!
APRIL 2
Board Training for Young Professionals
- FULL
APRIL 9
SHARE Omaha @ Omaha Storm Chasers
Visit the SHARE Omaha table at the Omaha Storm Chasers game to receive one-on-one guidance as you explore and select a nonprofit to serve. Commit to volunteering in April and receive a free tee while supplies last.
April 10
Board Diversity Round Table
– FULL
April 18
Volunteer & Beer Fair
- HOT (FREE) TICKET!
Mix and mingle with the local nonprofits who need your service the most. Visit with each nonprofit and learn more about their volunteer opportunities to determine whether you are a match. Commit to volunteer in April and receive a free (do)GOOD tee while supplies last. Join us at the Volunteer & Beer Fair, commit to volunteer and sample a beer experience with Flagship Commons. Flagship Commons is on the second floor of Westroads Mall next to the former Yonkers.
It's easy to get involved during (do)GOOD month! Simply pick a volunteer opportunity and apply now. Here's a sampling:
DURHAM MUSEUM
:
Platform Patrol
Do you like trains, Legos and pool noodles? The Platform, on the lower level of the museum, focuses on creating, building and innovating. Volunteers in this space will interact with children, families and adults to engage them in creative activities while keeping the area safe and organized. Weekend help is needed and schedules are flexible. You can even volunteer with your family!
OPEN DOOR MISSION
:
Walk-in Volunteers
Help Open Door Mission's community kitchen Monday – Friday from 9:00 - 11:00 a.m. and 2:00 - 4:00 p.m. You will help prepare meals, clean the kitchen and make sack lunches for the streets of Omaha.
OPERA OMAHA
:
C
raftsman's Guild Volunteer
Use your stagecraft skills in the areas of wardrobe, makeup/wigs, concessions, and parties. Enjoy the camaraderie and reward of helping to bring top notch performances to the Omaha community.
INTERCULTURAL SENIOR CENTER
:
"Service with a Smile" Volunteer
Spend about an hour, one-time or ongoing, serving meals to seniors. Teams of two to four volunteers serve lunch on weekdays from 11:20-12:30.
PARKINSON'S NEBRASKA
:
R
esource Researcher Volunteer
Research resources that provide services to Parkinson's patients in rural Nebraska communities including physical, occupational, and speech therapy providers, in-home care providers, living facilities, exercise classes, etc. Work from anywhere and help fulfill the needs of rural Nebraska.
See all Omaha metro volunteer opportunities now
. How will you serve the metro?