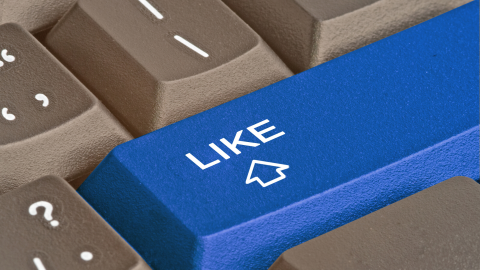 Sometimes "doing good" can be done in just a few clicks! One way to spread positivity in advance of December 3rd's Giving Tuesday is to like and follow local nonprofit Facebook pages. You'll stay up-to-date on all the good happening and be able to easily share nonprofit needs with your friends.
Facebook pages of #GivingTuesday402 and #GivingTuesday712 participants are linked below.
Who will you follow?
A Time To Heal Cancer Foundation
Abide
African American Empowerment Network
AIM Institute
ALS in the Heartland
American Society of Public Administration Nebraska Chapter
Amplify Arts
Angel Guardians Inc.
Angels Among Us
Apollon
At Ease USA
Benson Theatre
Bethlehem House
BFF Omaha
Big Brothers Big Sisters of the Midlands
Big Muddy Urban Farm
Birthright of Council Bluffs
Boy Scouts of America, Mid-America Council
Breaking the cycle
Camp Summergold, Inc.
Catholic Charities Domestic Violence and Sexual Assault Program
Centro Latino of Iowa
CHAD (Combined Health Agencies Drive)
Charles E. Lakin Human Services Campus
Christ Child Society of Omaha
Coalition on Human Trafficking
Community Cats of Omaha
Conceive Nebraska
Connections Area Agency on Aging
Council Bluffs Autism Support Group
Council Bluffs Schools Foundation
Courteous Kids
Crohns and Colitis Foundation
Cross Training Center
Crossroads of Western Iowa
DIBS for Kids
Do Space
Douglas County Historical Society
Down Syndrome Alliance of the Midlands
Eastern Nebraska/Western Iowa Medical Reserve Corps
EMPAC Dance
Epilepsy Foundation of Nebraska
FAMILY, Inc.
Fathers in the Park
Feline Friendz in Nebraska
Felius Cat Cafe
First Responders Foundation
FITGirl, Inc
Free Weights and Freedom
Fresh Hope for Mental Health
Girl Scouts Spirit of Nebraska
Girls Inc. of Omaha
Global Partners in Hope
GOALS Center
Great Plains Black History Museum
Gretna Public Library Foundation
Grief's Journey
Habitat for Humanity of Council Bluffs
Heartland Bike Share
Heartland Equine Therapeutic Riding Academy (HETRA)
Heartland Hope Mission
ICAN - Institute for Career Advancement Needs
Imagine Inclusion, Inc
inCOMMON Community Development
Intercultural Senior Center
Javelan, Inc. - A program of First Responders Foundation
Jennie Edmundson Foundation
Jr. Jacket Robotics
Kamie K Preston Hereditary Cancer Foundation
Keep Kids Alive Drive 25
Keep Omaha Beautiful
Kids Can Community Center
Lane Thomas Foundation
Legal Aid of Nebraska
Lifestyle Health Alliance
Live Well Omaha
Lungs4Life Foundation, Inc
Lutheran Service Corps
Make-A-Wish Nebraska
Martin-Graves Bellevue American Legion Post 339
Men of Bethany in America
Meyer Foundation for Disabilities
MICAH House
Midwest Dog Rescue Network
Midwest YouCan Foundation
Miller Memorial Golf Tournament
MSforward
Muscular Dystrophy Association
MyDestinati
NAMI Nebraska
Nebraska 4-H Foundation
Nebraska Children's Home Society
Nebraska Family Support Network
Nebraska Mission of Mercy
Nebraska Urban Indian Health Coalition
Nebraska Wildlife Rehab, Inc.
Nebraska Wind Symphony
Nebraskans Against Gun Violence
Nebraskans for Solar
Nebraskans for the Arts
New Visions Homeless Services
No More Empty Pots
Omaha Area Youth Orchestras
Omaha Children's Museum
Omaha Healthy Kids Alliance
Omaha Home for Boys
Omaha Maker Group
Omaha Parks Foundation
Omaha Performing Arts Society
Omaha Public Library Foundation
Omaha Rapid Response
Omaha Sports Commission
Omaha Symphony
Omaha/Council Bluffs Bridges Out of Poverty
Open Door Mission
Orphans and Widows of Omaha
OutNebraska
Paralyzed Veterans of America Great Plains Chapter
Parkinson's Nebraska
Partnership 4 Hope Inc.
Planned Parenthood
Project Harmony Child Advocacy Center
PROJECT HOPE, INC
Rabble Mill
Radio Talking Book Service
Rejuvenating Women
Release Inc
Restoration Exchange Omaha
Restoring Dignity
Ronald McDonald House Charities in Omaha
Saving Grace Perishable Food Rescue
Scatter Joy Acres
Share a Fare
Share My Smile
Society of St. Vincent de Paul
Soroptimist International of Omaha Metro
SPARKPositivity
Stephen Center
Team Jack Foundation
TeamMates Mentoring Program
The 712 Initiative
The Daily House Respite B&B
The Good Life Bulldog Rescue
The Hope Center for Kids
The Leukemia & Lymphoma Society
The Rose Theater
The Salvation Army of Council Bluffs
The Salvation Army of Omaha
The Set Me Free Project
The Union for Contemporary Art
ThriVinci
Together
Town and Country Humane Society
Urban Acres Horse Rescue
Valley Days Foundation
Visiting Nurse Association
Wear Yellow Nebraska
WELLCOM
West Central Community Action - Harlan, IA
WhyArts
Wild Hearts N Horses
Womenade of Elkhorn
Women's Center for Advancement
YMCA of Greater Omaha
Youth Care & Beyond
Youth Emergency Services