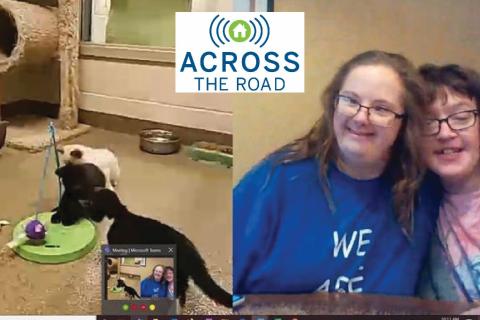 This blog is written and shared by Crossroads of Western Iowa.
Picture this: two roommates, unable to go on their regularly scheduled community outings due to the current COVID-19 crisis, meet kittens born the previous evening at the Midlands Humane Society via a Microsoft Teams connection. The two animal-loving friends ask the Humane Society's Executive Director questions about the animals' routines, laugh together when the kittens roll around the screen, and share what life in quarantine is like for them.
At a time when the word "unprecedented" is becoming, well, precedented, one area non-profit is reaching out virtually to connect community members and their clients with physical disabilities, intellectual disabilities, and/or traumatic brain injuries. Whether it be connecting with animals, nature centers, fire stations, the local library, or individual volunteers,
Crossroads of Western Iowa
is meeting the needs of their clients while social distancing with their newly established
Across the Road
program.
"The Across the Road program has provided our clients with safe and exciting interactions with businesses and members of our community. The experiences cultivate smiles, laughter, and friendships," said Corri Tierney, a Crossroads of Western Iowa employee.
COVID-19 has changed the way we eat, work, and play, but it will not change the human heart's desire for connection, love, and service. Crossroads of Western Iowa is just another example of people caring for people, no matter the circumstance.
Please consider volunteering to take part in Crossroads's Across the Road program by
submitting your interest to volunteer here
.