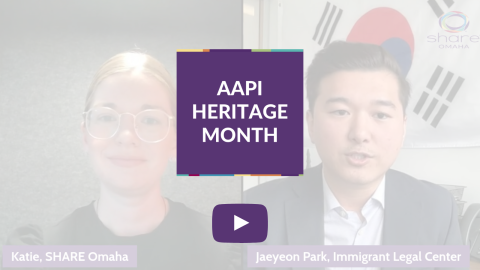 May is AAPI Heritage Month! In case you don't know, AAPI stands for Asian American and Pacific Islander. According to the Asian Pacific Institute, this term includes "all people of Asian, Asian American or Pacific Islander ancestry, who trace their origins to the countries, states, jurisdictions and/or the diasporic communities of these geographic regions."
Asian Americans Advancing Justice says: "Immigration has always been and continues to be a significant, current, and life-affecting issue for the AAPI population. As a community with a historic and significant role in shaping the United States, particularly as more immigrants enter the country from Asia than from any other region in the world, AAPI perspectives are critical to ensuring policymakers and the public have an accurate understanding of immigration issues as we work to create a system where communities thrive."
Immigrant Legal Center is Nebraska and southwest Iowa's largest nonprofit immigration legal services provider empowering immigrants to live with confidence and free from fear. At ILC, they never turn any family away due to inability to pay. Your support allows staff to help keep immigrant families together, help them gain legal status, and earn their rights under our laws to work and contribute to our community. 
Jaeyeon Park of Immigrant Legal Center was gracious to share time with us this AAPI Heritage Month:
Immigrant Legal Center recently merged with Refugee Empowerment Center:
Jaeyeon speaks about heritage:
Jaeyeon speaks about AAPI discrimination through history and the model minority myth: