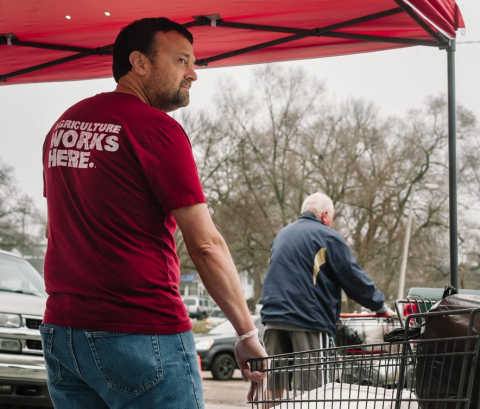 This story is written by Leo Adam Biga.

In order for
Heartland Hope Mission
to address clients' food insecurity needs, it relies on community support. Some support comes in the form of food and monetary donations. Other support comes from boots on the ground. Count volunteer Jeff Spilinek as a foot soldier who, rain or shine, cold or warm, shows up at Heartland Hope Mission's South Omaha location to distribute pantries.
"I usually help load food from grocery carts into cars for clients," Jeff says. "The staff take care of the vetting process, so all I have to do is love on each person receiving a pantry. That's probably the best part for me. Being able to show love to our neighbors is its own reward. It's something I look forward to doing."
"Being a regular part of the pantry has helped me become more committed to the mission."
He previously volunteered with Heartland Hope Mission once a month but with more time on his hands since the outbreak of COVID-19, he now goes twice, even three times a week.
"As long as COVID precautions last, I'll be there as much as I can," says Jeff, who's married with two children.
His presence is felt, says Heartland Hope Mission's community relations specialist Renae Bush. "With our small staff we are all hands on deck and Jeff is always here to help us through this challenging time. He's such a blessing not only to our community but to our staff. He just jumps in and knows how to get the job done. Plus, he trains other volunteers."
Meanwhile, Jeff feels "very supported" in the volunteering he does by his employer,
Farm Credit Services of America
.
"We have a very strong community involvement program that has food security as one of its top goals. We're encouraged to volunteer in the community through paid volunteer time as individuals and teams. Farm Credit also matches employee donations. As a community involvement 'champion,' I encourage employees to give back."
His own volunteering extends well beyond Heartland Hope Mission, but he particularly likes the "hands-on" opportunity it provides.
"A lot of times as a volunteer you're in the background, isolated away. You don't have direct contact with the people you help. Even with the drive-through pantry Heartland Hope Mission set up during COVID, we're still able to work with the people we help. Being able to see you've made a difference in somebody else's life has a profound impact.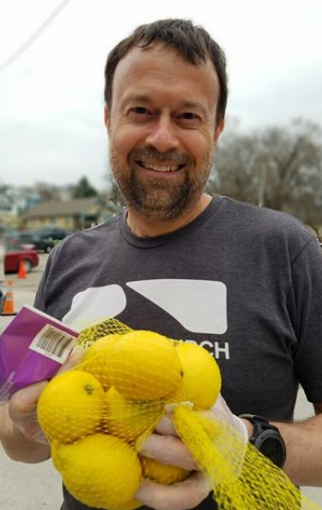 "To wrap up a shift and know you made a difference is inspiring."
His consistent, committed work is appreciated, says Heartland Hope Mission pantry coordinator Patrick Rios. "Jeff comes early and stays late. He helps with set up and tear down and does all kinds of extra stuff he knows needs to be done, and he doesn't need to be asked to do it. He always goes above and beyond."
Jeff emphasizes he's hardly alone in aiding the pantry operation.
"I'm part of a good crew. It takes a team of people. I would hate not being there knowing they needed one more person to help out. The staff at Heartland Hope Mission are wonderful to work with. Very appreciative and respectful of volunteers. I get to work with many other, hard-working volunteers. I have become friends with quite a few of them."
He likes being part of a cause that does more than feed people.
"Staff talk with clients about their needs outside of just food," he says. "It's one thing to give a person a bag of food and say be on your way. But Heartland Hope Mission really tries to help clients sustain themselves with employment counseling, referrals to other resources and spiritual nourishment. It's very attractive to be part of a program that helps the entire person."
He can't imagine life without lending a hand at Heartland Hope Mission. "I'll always want to be a part of what they do there."
He invites anyone on the fence about volunteering to give it a try.
"Even if you only do it once, I think it plants a seed in your mind and hopefully your heart to say, 'Is there more I could be doing?'"
Heartland has many volunteer needs.
See how you can help Heartland Hope Mission, and submit your interest here
.