Stories
Some call it stories. Others call it a blog. But here you will find nuggets of goodness to use and -- you guessed it -- SHARE!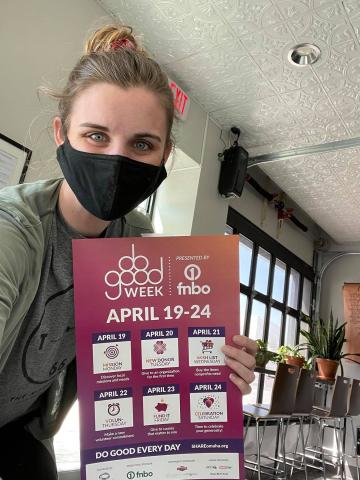 Even though we're starting to see the light at the end of this pandemic tunnel, we still face a lot of challenges as a community. It's natural to feel a mix of emotions, and to feel a little bit overwhelmed as we confront a lot of big, societal issues.
We have good news.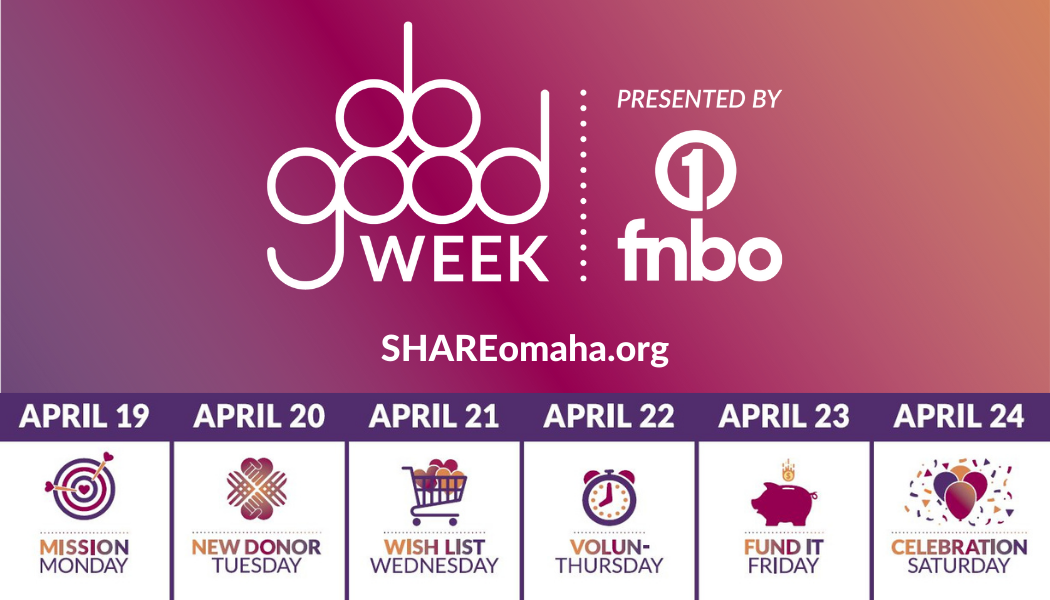 From April 19-24 everyone can participate. We mean it: everyone is encouraged to do some good, from toddlers to centenarians. Absolutely everyone has something to give. Everyone can help someone else. Everyone can help our community move forward.

What if we all decided to do something good for our community every day, giving bits of joy, for an entire week? The whole Omaha metro would feel the impact. 
Each day of Do Good Week has a theme, and we're suggesting ways to be involved and connected to each.
The Number One Way to Do Good
If you are able to make donations, this is the number one thing nonprofits need right now. Many are struggling to make ends meet because of the increased demand for services related to the pandemic, and the postponement of many in-person fundraisers.
It's also important to remember that Omaha Community Foundation's Omaha Gives ended in 2020. Do Good Week will be our community's way of collective giving this spring. This is our time to expand on what it means to give back and give of ourselves.
Be sure to explore SHAREomaha.org for how our local nonprofits will use the funds they'll collect during Do Good Week, and if a project speaks to you, make a donation.
It's All Good
If you're unable to make financial contributions, or if you've given your donation and can still do more, consider other ways to do good. The real power in Do Good Week will come in how we do good together. No matter how small a deed or large a donation, it all counts and it's all important. Coming together and getting everyone involved is what will make a real difference.
Here are some ideas to invite people in your network to join you: 
Share nonprofit posts on your social media and encourage your friends to support those organizations.

Gather your co-workers together for a project – collect items, find a socially-distanced volunteer opportunity, raise money for a common cause or share nonprofit stories in your internal company communication channels.

Think of organizations you belong to, like associations, church groups and book clubs. Is there a similar nonprofit that aligns with your interests? For example, maybe your running club would like to make a contribution to a local youth sports organization.

Organize a neighborhood virtual block party and charge admission. Ask everyone to submit their favorite nonprofit, and draw the winning nonprofit at the end to receive the admission fees.
One Good Thing Each Day
Don't let Do Good Week overwhelm you. Just remember: do one good act each day. That's it! If we all do one good thing each day, we'll see a remarkable difference in our community.
Keep returning to SHAREomaha.org during Do Good Week, April 19-24, 2021 – we will regularly share updates of your collective generosity!