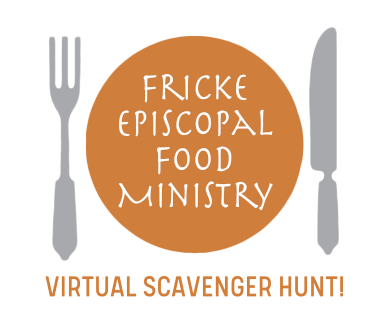 This blog is guest-written by Bill Roberts, President of Fricke Episcopal Food Ministry Board of Directors
The
Fricke Episcopal Food Ministry
is a different kind of nonprofit.
We aren't a food bank, food pantry or preparer of foods – we're a fundraiser for those kinds of nonprofits. We make feeding the hungry easier. Because we make Food Security Grants that must be spent entirely on food for the needy, our supporters can be sure that our grants pay for food and only food.
We thought up a fun game to promote our work – the Virtual Scavenger Hunt.
It starts April 20,
New Donor Tuesday
, on our website at
frickeministry.org
. Anyone can play – no need to
donate
. We give you seven questions about our nonprofit partners, and you can find the answers on each partner's website, which is provided with each question. Submit your answers between 8 a.m. April 20 and 5 p.m. April 22. You'll get to know our partners and all the good they do.
We'll pick five winners at random from the pool of correct answers, and each winner gets a free pair of Day Passes to the
Salvation Army Kroc Center
. Enjoy fun-filled activities for all ages in sports, fitness, aquatics, education, creative arts and spiritual enrichment. The passes don't expire until July 31, 2022.
Yes, we hope you'll decide to help our partners with one click of the
Donate
button on our Profile Page.
GIVE NOW.
You can help all of our partners feed the hungry with your single, easy-to-make gift to Fricke Episcopal Food Ministry. Helping all those nonprofits with one simple donation – that's how
we make feeding the hungry easier
!
We hope you'll visit, play our game and donate to the Fricke Episcopal Food Ministry during
Do Good Week
, April 19-24.