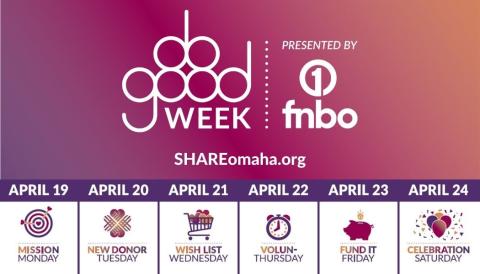 Do Good Week is coming up starting April 19, and we're about to find out the answer to the question, "What if we thought about all the different ways we can Do Good…for a whole week?"
During this week of giving back, you're encouraged to do good every day for local causes, in your own way. But if you need some ideas, each day has a theme that can get your creative (and generous) juices flowing:
Monday, April 19: Mission Monday – Think about the big causes that matter to you and what values you hold most dear. Reflect on important moments in your life and the experiences of your loved ones.
What organizations are furthering these causes?
Which nonprofits share your values?
Maybe there is an organization that helped you or a loved one during an important time in your life. Make a point of spreading the word about their good work on Mission Monday.
Tuesday, April 20: New Donor Tuesday – Go on a little scavenger hunt today. Find an organization that has never heard from you before. You've never donated to them, you've never volunteered with them, and maybe you've never interacted with them on social media. With hundreds of nonprofits in our community, there's bound to be several that have never experienced your brand of goodness before.
Introduce yourself today by making an out-of-the-blue donation.
And be sure to spread their good news on your social media channels!
Wednesday, April 21: Wish List Wednesday – It feels good to donate physical items and picture how they will be used for good work. Visit wish lists from nonprofits on our website and see if you have any of these items collecting dust around your home. Even easier, with a few short clicks you can order from Amazon and have the package sent to the nonprofit directly.
Share these wish lists on social media – the things they need can say a lot about the work nonprofits engage in every day.
Thursday, April 22: Volun-Thursday – As our community starts to recover from the effects of the pandemic, start to think about where you'd like to safely volunteer your time. Learn more about local nonprofits that could use your help. Even now, many nonprofits offer socially distanced ways to volunteer, and some of the opportunities can be done in the comfort and safety of your home. We know nonprofits will be eager to welcome you as soon as they are able.
Friday, April 23: Fund It Friday – It's time to finish strong and give all you can to your favorite nonprofits in our community. These organizations and those they serve need your donations. As one of their biggest supporters, you can help rally even more people to help them continue their important work. Check out the SHARE Omaha profiles of causes you care about to see what these nonprofits are achieving and the specific projects you'll be helping them accomplish - and donate right from our site. Tell your giving story and showcase all the good these nonprofits are doing on your social media accounts, too.
Remember 100% of your donation goes to the organization if you choose to cover PayPal's low processing fees. 
SHARE Omaha doesn't keep a percentage of donations or charge any fees to nonprofits or givers.
Saturday, April 24: Celebration Saturday – Goodness, what a week! Shout from the rooftops all the good you did! Together, we will be a powerful force for lifting our community. Let's celebrate everyone's gifts and keep the positive energy flowing. Today, give lots of shout-outs, high fives, pats on the back and thank you notes for all the contributions and efforts you saw during Do Good Week.
Be sure to stay connected to SHARE Omaha's social media the entire week. Nonprofits will be eligible for $37,000 in cash prizes, some of which will be based on the support they receive from YOU throughout Do Good Week, meaning your gifts are even more valuable than before.  
We can't wait to experience the excitement of an entire week of good in our community!
#DoGoodWeek, presented by FNBO