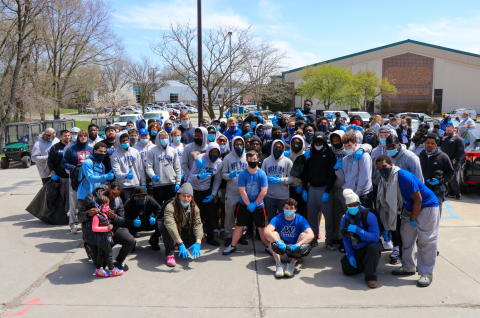 Omaha, Neb – SHARE Omaha, the nonprofit behind
Do Good Week
has posted successful results which spanned a holistic approach to philanthropy.
The first ever Do Good Week was April 19-24 and across those days the following results were tracked:
25,000 people explored causes on SHAREomaha.org for over 100,000 minutes
$2,558,002.50
reported in donations, including matching gifts
17,813
donations
$143.60
was the average gift
25%
of donations were new donors
$384,167.72
raised by nonprofits in matching dollars
$37,000
in cash prizes provided by FNBO, Omaha Steaks, and Pottawattamie County Community Foundation
1,874
items donated for Wish List Wednesday
valued at
$43,800.69
912
new volunteer applicants
1,247
people volunteered during the week
2,885
total volunteer hours
$78,472
value of volunteer hours ($27.20 is the national average value of a volunteer hour)
1,798
people attended virtual or in person events during Do Good Week
Marjorie Maas, SHARE Omaha executive director noted, "We are excited about the results that Do Good Week had for our participating nonprofits. Our mission is a holistic approach to philanthropy and this week provided opportunities for donor exploration, the fulfilment of needed items, volunteerism, and financial support. SHARE Omaha is grateful to everyone who participated and who helped propel this new philanthropic model."
Background:
SHARE Omaha is a single, nonprofit website source connecting donors and volunteers to the needs of over 500 area nonprofits. SHARE Omaha created
Do Good Week
which was held for first time last week April 19 - April 24, 2021. It was five themed days developed to promote and fill the needs of participating local nonprofits. On
Mission Monday
the community was invited to connect to causes that matter most to them and plan how they would participate throughout the week.
New Donor Tuesday
encouraged donors to give to a new organization,
Wish List Wednesday
fulfilled material needs,
Volun-Thursday
promoted year-long volunteer opportunities both virtual and in person, and
Fund It Friday
was the day to give, as generously as possible, to bolster the work of nonprofits. The final day
Celebration Saturday,
closed the week with virtually shared successes, cash prizes, and thanks to the donors and volunteers.
Do Good Week
was presented by First National Bank Omaha (FNBO) and powered by SHARE Omaha.