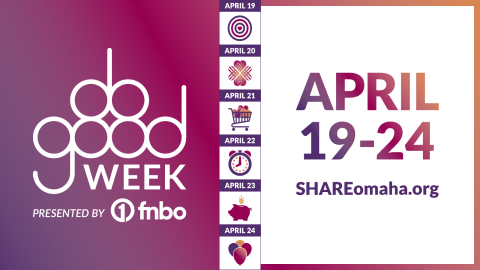 Omaha, Neb – SHARE Omaha, announces that the organization is launching the first
Do Good Week
from April 19 - April 24, 2021. Coinciding with National Volunteer Week, Do Good Week amplifies the mission of SHARE Omaha to meet the needs of community organizations by financially supporting their efforts, building their donor base, fulfilling the wish lists of goods needed and volunteering. The week-long effort, with themed days, builds on the eight year history of Omaha Community Foundation's
Omaha Gives
which ended in 2020.   
The week represents the next evolution in community giving and volunteerism for the Omaha metro and Southwest Iowa. SHARE Omaha takes the Do Good Week lead with the support of the
Omaha Community Foundation
and
Pottawattamie County Community Foundation
. Do Good Week is presented by First National Bank of Omaha (
FNBO
).  
"The reality is that after the last year many local nonprofits are still struggling to keep up with ongoing, increased demand," said SHARE Executive Director Marjorie Maas. "Yet hope remains and Do Good Week can galvanize the efforts to rebuild lives and community."  
Do Good Week is five days dedicated to meeting community needs.
Mission Monday
is an opportunity to think about the big causes that matter and what values donors hold dear. Donors can plan where they will give or volunteer by exploring the SHARE Omaha website and spread the word about their favorite causes.
New Donor Tuesday
is intended to encourage donors to give to an organization they've never supported before. The goal is to help nonprofits build their donor base for the future, and to help people connect with nonprofits and causes that they care about.
Wish List Wednesday
is the day to fill the voids for organizations with goods from an online list or with extra items people are no longer using.
Volun-Thursday
is when people can safely volunteer time for a favorite organization or someplace new. Even now, virtual and distanced options need to be filled. The week of good actions ends with
Fund It Friday
, the time to give financially, all you can, to your favorite nonprofits. You can check the SHARE Omaha website for the latest on what nonprofits are doing, what they need money to accomplish and what they are achieving. Remember, 100% of your donation goes to the organization if you choose to cover PayPal's low processing fees. SHARE Omaha doesn't keep a percentage or charge any fees to nonprofits or donors.  
"SHARE Omaha is excited to bring the Do Good Week concept to the metro and to ensure that nonprofits across Omaha and Southwest Iowa can continue to raise the money they need for their organizations through a concerted effort," Maas said. "We are also grateful for the support of the Omaha Community Foundation as the community transitions to a single giving platform for doing good in so many ways."  
Nonprofits will be eligible for cash prizes, thanks to the support of FNBO,
Omaha Steaks
and the Pottawattamie County Community Foundation, making donor gifts even more valuable. SHARE Omaha will be tracking success throughout Fund It Friday and keeping the community updated online and on social media. Finally,
Celebration Saturday
, April 24th will close the week with virtually shared successes, prizes and gratitude.  
###  
Contact:  Marjorie Maas, Executive Director
Email: marjorie@SHAREomaha.org