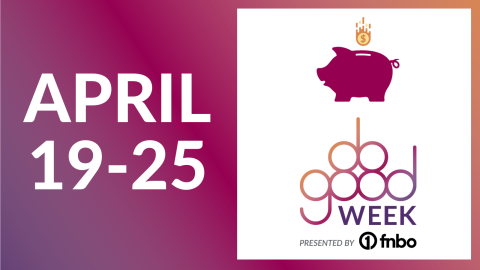 Let's state the obvious right off the bat: the last 12 months have been tough. Really tough.

It's been hard on all fronts: our health, our careers, our families, our friendships... our entire community has changed, been compromised or stretched thin in one way or another.
Many people - like you, undoubtedly - have stepped up to help their neighbors. All of us in the Omaha/Council Bluffs metro area owe each other a big thank you. We all assisted each other through an unbelievably difficult time. And unfortunately, we are still very much in the thick of our challenges.
The reality is that our local nonprofits are still struggling to keep up with ongoing, increased demand. And with COVID preventing in-person fundraising events, a significant revenue stream is cut to a trickle.
Yet, hope remains. It's time for a large-scale, collective effort to lift our community.
Do Good Week: April 19-24, 2021
Imagine what the impact could be if we all step up together, for an entire week.
Get ready for six full days of goodness in April.

Introducing Do Good Week, presented by FNBO, five days dedicated to meeting a wider variety of needs in our community - followed by a day of celebration. Its a week that will expand your altruistic horizons and allow you to show what giving back means in your life.

Good For You
Wait, why should you expand your altruistic horizons and show what giving back means in your life?
Know this: Giving back and doing good things is not only beneficial to the receiving individual or nonprofit organization, it's good for you:
Physically: Volunteering has been shown to improve blood pressure levels among older adults.

Mentally: That warm and fuzzy feeling you get when you do something nice for someone else is real: generosity has been shown to lower cortisol (the stress hormone) and performing acts of kindness has been proven to make people happier.

Socially: Connecting to a favorite cause or local nonprofit can expand your network and introduce you to a whole new group of friends.

Upwardly: Consider volunteering your time in a targeted way by using your education or skills to benefit a nonprofit organization – you may open yourself to a whole new career path.

Financially: Don't forget about potential tax benefits from your charitable donations.
Delivering the Goods
While any donation of time, items and money is appreciated, how do you decide for yourself how to give your resources?
First, decide where to give. Choosing two or three favorite nonprofits can help you make a bigger impact. Here are some questions you can ask yourself:
What causes are important to you?

Do you prefer to give to a larger nonprofit working on bigger issues or a smaller nonprofit that may be on the front lines of helping individuals?

Check out the SHARE Omaha profiles and websites of the nonprofits you are considering – are they transparent with their work? Are they clear about their mission? Do their values align with yours?
Next, decide how much of your resources you're able to give. Consider making charitable donations a part of your year-round budget and set reminders for ongoing donations after Do Good Week.

How to Do the Most Good
In this strange time we're experiencing, volunteering has changed. Because of public health considerations, organizing volunteers is not always feasible for nonprofits.
What Omaha metro and Southwest Iowa nonprofits really need today, tomorrow, in April and beyond, is money. Cash is indeed king, and it's the most valuable gift you could give your favorite organization.
Be sure to stay connected to SHARE Omaha in the weeks leading up to Do Good Week for more ideas on all the good you can spread in our community this spring.
When we all contribute gifts of time, dollars and items, we are taking action today that will impact future generations tomorrow. With 2020 being the final year of Omaha Gives, this first-ever local Do Good Week is our joint rallying call for everyone — individuals, families and employees alike — to act now and join us in doing good in every way we can.